#CMIPresidentsAwards #GreatLeaders #Managers - CMI's Royal Patron, HRH The Countess of Wessex and CMI President Bruce Carnegie-Brown lead celebration of management and leadership excellence
The Chartered Management Institute (CMI) yesterday held its annual President's Awards in a blended ceremony consisting of virtual and in-person elements - a first for the organisation. Led by CMI President Bruce Carnegie-Brown, the event also featured the Institute's Patron, HRH The Countess of Wessex, CEO Ann Francke, and CMI's incoming President Lord Mark Price.
The awards are an annual celebration and recognition of the insights, experiences, and successes of CMI's learners, apprentices, Chartered Managers, and volunteers as well as the wider management and leadership community. Chartered Manager of the year was awarded to Manisha Mistry of Rolls Royce, and Management Book of the Year went to Rebel Ideas by Matthew Syed.
The Countess of Wessex praised the CMI for their efforts to pay tribute and congratulate individuals during this challenging time, and for celebrating the good news stories of those both experienced in their careers and just starting out.
Her Royal Highness said: "To all of the awardees - enormous congratulations. I hope that you're extremely proud of yourselves, and that this recognition will inspire you towards even greater achievements in the future."
Bruce Carnegie-Brown, outgoing President of CMI, said:
"What is most striking is the breadth of our undertakings and our increasing reach into an ever broadening range of activities relative to where we were three years ago. We continue to focus on growing our membership at a time when many membership organisations are seeing significant declines in their memberships. We continue to expand our partnerships in the educational sector. Three years ago we had just 590 educational partners; today we have 822 - an increase of some 40 percent.
"Having this strong voice is vital to CMI's role in offering guidance and support to managers and organisations navigating through the uncharted waters in which we are all operating."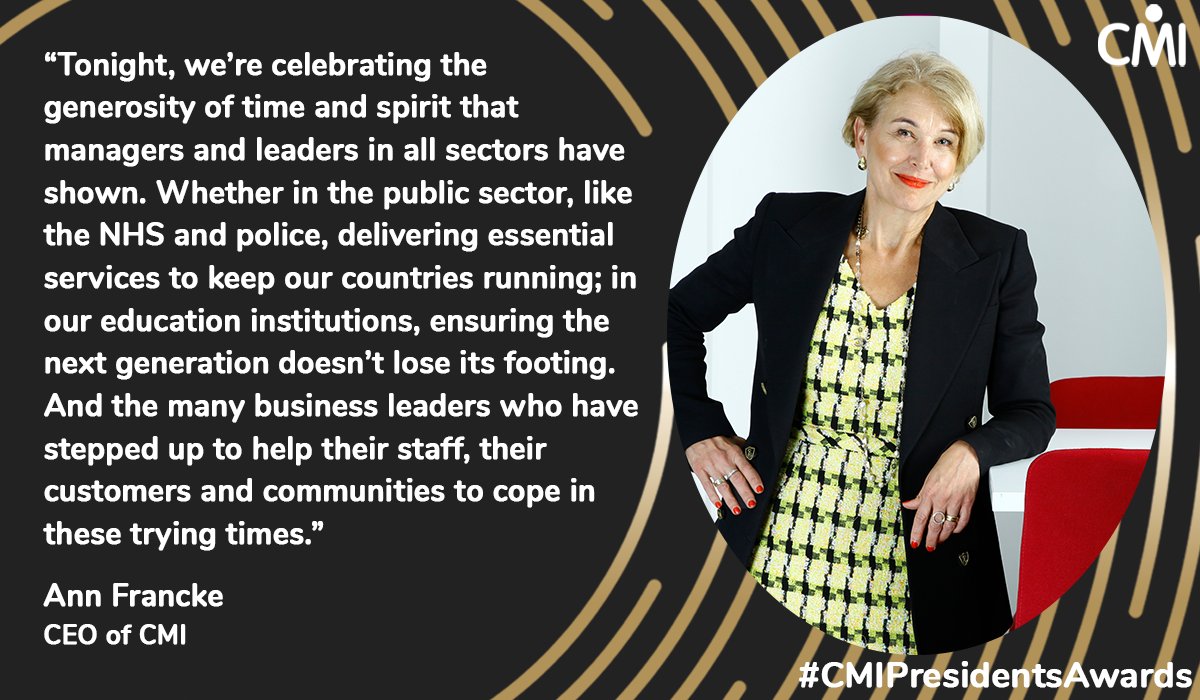 Ann Francke, Chief Executive of CMI, said:
"We are all aware of the unprecedented challenges that organisations and individuals have faced across the world since the start of the year. Colleagues have looked to us for support and guidance in an uncertain, and frankly scary world. Leaders have turned to us for answers, changing course, taking brave new decisions and adopting new plans in hours or days in an ever-changing environment. And in every corner of the globe, we have reminded them of the difference that great managers and leaders make, and the humanity, kindness, and dedication of our profession."
Lord Mark Price, incoming President of CMI, said:
"We all know that the world of work has been changing at a pace. New technology and environmental concerns are creating a paradigm shift for all organisations and society. All of which places even greater emphasis on more skilled and better management.
"The CMI was established in the wake of the Second World War with a purpose to raise the quality and standard of management in the workplace, and that mission has never been more relevant."