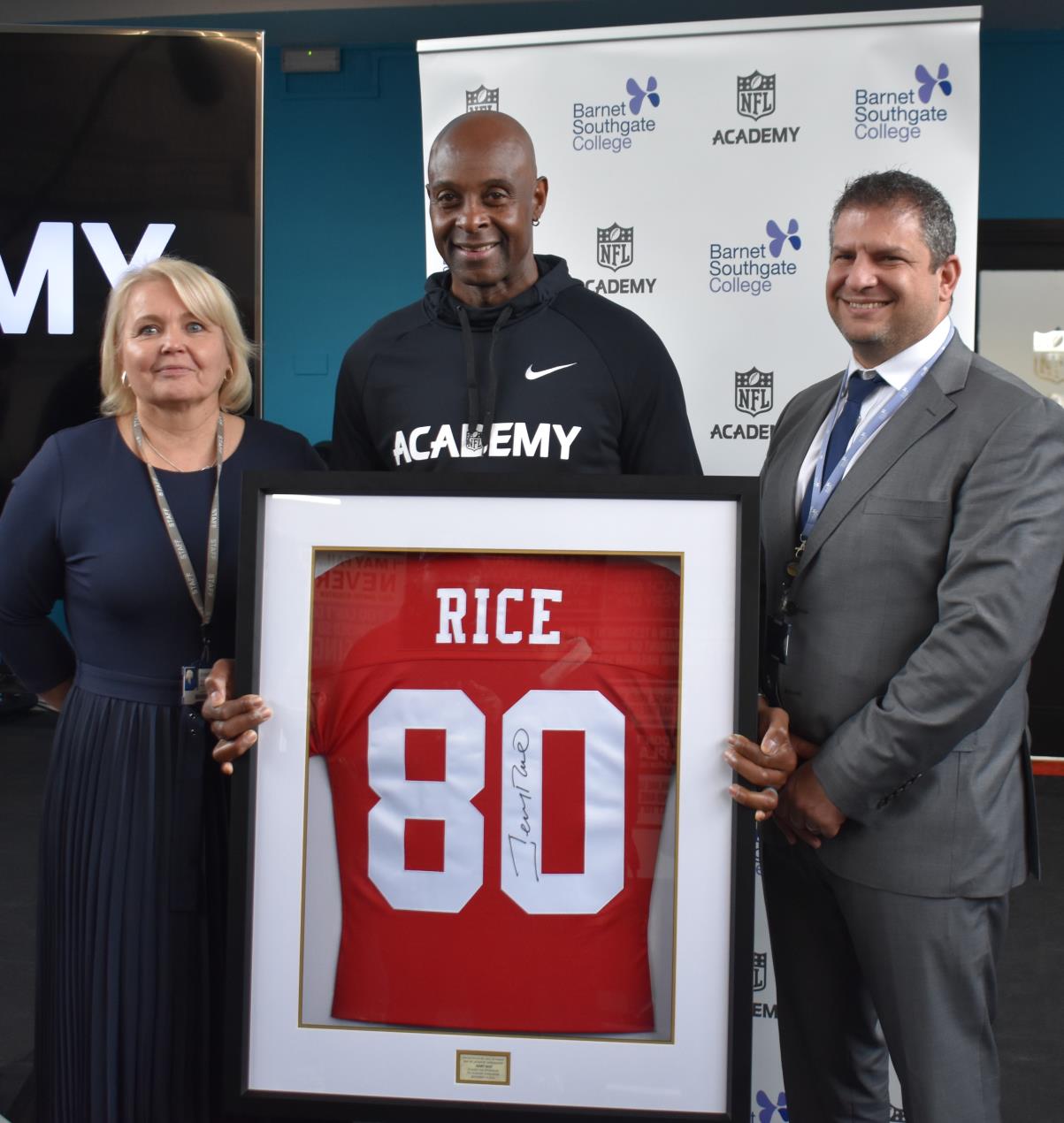 College Students Inspired by NFL Legend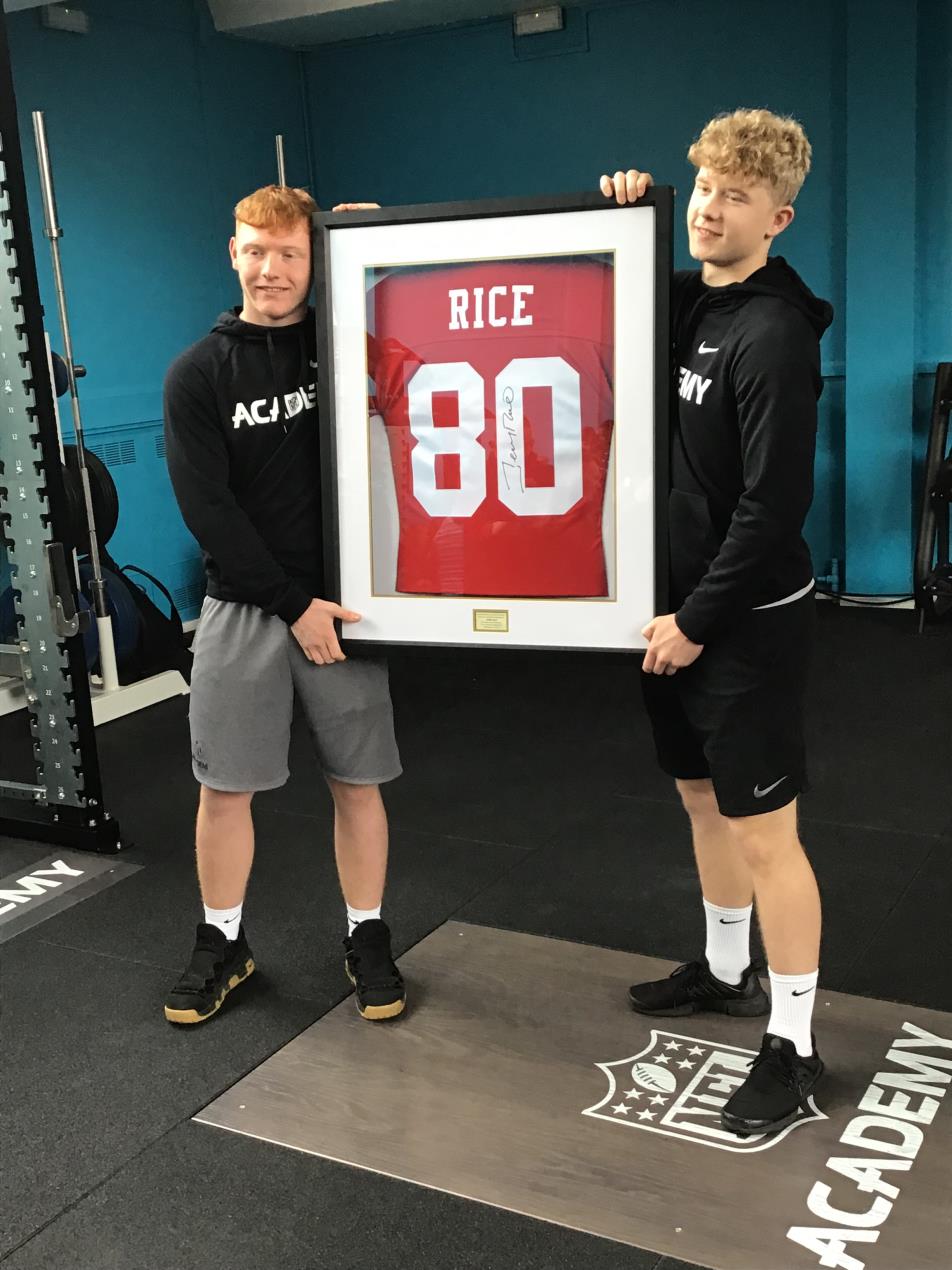 Hall of Fame wide receiver and NFL Academy ambassador Jerry Rice received a warm welcome yesterday, 19 November, as he made his first visit to the NFL Academy in London. Rice was present to officially open the NFL Academy gymnasium at Barnet and Southgate College's campus in Southgate.
The man acknowledged as the greatest wide receiver in NFL history also took time to mentor current students as he led their afternoon practice at New River Sport & Fitness in Tottenham.
"This an amazing Academy, just being here feels amazing," said Jerry Rice. "I'm looking forward to working with the students. The NFL is doing a fantastic job of growing the game over here. We didn't have these kinds of facilities when I was learning the game. The students here have everything they need to be successful in life. The NFL Academy is about the sport, the education and the character and those things are very important. It's important to get your education first and everything that follows is the icing on the cake."
The NFL Academy, which began operations in September 2019, offers student athletes aged 16-18 the opportunity to combine education with life skills and intensive training in American football under full-time professional coaches. The new gymnasium occupies a former theatre and has all the equipment needed for students to undergo a comprehensive strength and conditioning programme.
Supported by Nike and based at Barnet and Southgate College, in North London, the NFL Academy provides students with pathways into employment, further education and even the potential opportunity to play NCAA college football in the United States.
Tracey McIntosh, Executive Director of Commercial Partnerships at Barnet and Southgate College said: "Barnet and Southgate College is excited to have welcomed our first cohort of NFL Academy students to the Southgate campus and we're proud to be the first UK college to offer this programme in partnership with the NFL. It joins a number of other sporting academies run by the college, highlighting our breadth of experience in delivering these dual programmes. It gives aspiring American football players the chance to train and develop their skills and knowledge of the game whilst also completing a full-time education."
Barnet and Southgate College coaching staff have been working alongside NFL UK's development team to create the football programme, under head coach Tony Allen.
"Having an icon like Jerry Rice at practice is a fantastic incentive for the students," said Tony Allen. "His work ethic is legendary, and the students all understand the hard work he put in to achieve all he did in his career. Today will be something that lives with them and inspires them during their time at academy."
The NFL Academy is being supported by some of the biggest names in the NFL including London-born two-time Super Bowl winner Osi Umenyiora and his colleague on BBC's NFL coverage, Jason Bell. Also serving as ambassadors are Cleveland Browns wide receiver Odell Beckham Jr; Kansas City Chiefs quarterback and NFL MVP Patrick Mahomes; Pittsburgh Steelers wide receiver JuJu Smith-Schuster; Philadelphia Eagles' British-born running back Jay Ajayi; Carolina Panthers' London-raised defensive end Efe Obada; Jacksonville Jagars defensive Calais Campbell and England soccer captain and Tottenham Hotspur striker Harry Kane .