About Us
FE News is the largest online news site dedicated solely for the further education, apprenticeship/work-based learning and employability sector. We have been around for over 18 years (no mean feat for an online business). FE News was established in September 2003, our focus is covering news across the entire sector. FE News is a specialist news site for the sector, in every FE week we provide our support to help build the further education sector.
Our content is free to view, we are a 'green' news provider because we don't produce a paper-based publication that uses up precious resources. Even our job advertising site www.fecareers.co.uk is free to view the latest job vacancies (we have more than 1200 job vacancies live per day and more than 650,000 job seeker user sessions per month). Between FE News and FE Careers we have nearly a million page views per month, every month.
Why is FE News 100% Digital?
FE News has always been 100% digital, enabling everyone in the sector access to the content (we do not believe in charging for the sector to read our content).
Until 2014, the FE News HQ was based in Forestry Commission Offices in a working woodland. We were surrounded by woodland, it was amazing, but this was also a working forest and at times areas would be flat felled to harvest the wood crop (hundreds, if not thousands of trees were cut down all at the same time, in the same area). If you have the opportunity to walk into a recently flat felled woodland, we would encourage this (the devastation is immense, it literally takes your breath away, it looks as if a massive bomb has gone off and no birds sing in a flat felled forest)… you will then understand why we at FE News are 100% digital and will never be paper based.
The FE News Ethos
We work to a strong belief that all of our news should be fair and sector building. We encourage best practice and innovation in the FE sector, to ultimately improve the learner and employers experience.
Our aim back in 2003 and today is to unite the sector to enable us to all work more effectively together to provide greater opportunities for learners. This is no mean task because the further education sector is so vast, college, training providers, welfare to work, employability, awarding organisations, funding agencies, apprenticeships, prison education, ESOL, adult learning/education, learners and employers – the list can go on and on.
Our aim is to provide an insight into the latest developments across the sector. We really appreciate the time shared and spared by our column writers – they are the policy makers and innovators of the sector and our audience enjoy weekly insights and pearls of wisdom from these specialists, so they can plan how to best deliver future learning for students.
What Type of Content do FE News Publish Every Week?
We have a range of news styles for you to enjoy. This ranges from column writers who are subject matter specialists across the sector, video interviews with speakers from conferences and events – we have published more than 600 video interviews – news analysis of emerging trends across further education, skills and welfare to work.
Every FE week, we feature specialist column writers who are experts in their respective areas of further education. The columnists are experts in their field and set the policy for the sector. Every week FE News column writers provide an insight into the latest policy developments so you can keep your finger right on the pulse.
Advertising Packages
How Can We Help You Get Started With Your Educational Advertising?
Thinking of Advertising with Us? Here's Our Traffic Statistics
About the FE News Audience
Key decision makers, senior management, executives and policy makers in the FE, HE, skills, apprenticeship, work-based learning and employability sector. FE News had in excess of 173,000 unique visitors per month in 2021 (Google Analytics), which ranked FE News in the top 2000 UK websites (Alexa Analytics).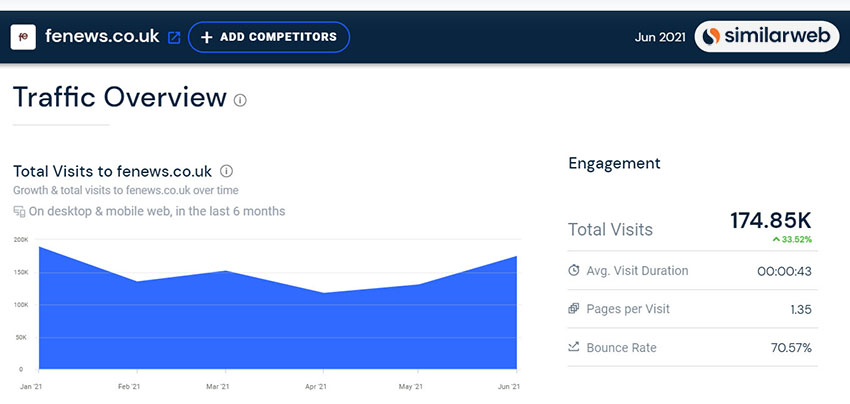 Social Media
FE News has 1.5M monthly tweet impressions, 56,000 followers across social media, 29,000 LinkedIn connections, and over 5,600 Newsrooms registered on FE News.
Global Influence
Specialising in peer-to-peer, thought leadership analysis of current affairs and recent development within the training, skills and employability sector, Onalytica includes FE News in the top 90 most influential STEM publications in the world! With more than 2.5M page views over the past year, 70% were from the UK and 30% were international.
We also provides access to event information, press releases from across the sector and the largest pool of job vacancies across the further education, skills and welfare to work sectors via our job advertising site www.fecareers.co.uk.
Receive FE News Every Week, Subscribe to FE Weekly Soundbite Journal!
We can email you an FE weekly round up of news from across the sector. Our further education journal "Soundbite" is designed to be a 30 second snap shot of the week's FE News.
We do not charge to send you FE Weekly Soundbite (ISSN 2732-4095), it is totally free!