On FE News you can publish
FE News Article Submission and Style Guide
FE News has over 250 pieces of content per week. We tier this content into different categories and sections to help our audience find the news items and thought leadership articles most relevant to their interests.
Thought Leadership
With a maximum of 10 articles in a week, our main feature articles are all exclusive to FE News. As commissioner of the works, FE News will retain "all rights reserved".
FE News encourage you to share your article across your social networks, but to publish it in full on your own site, please credit FE News as the original source of the article, and include a link to the original article. Google encourages republished material to make use of canonical URLs, so they can better identify the original content and credit it appropriately.
We will need a supporting image (landscape, at least 750x570px), the name, job title, and company of the author, ideally with a short bio.
To submit your article to be scheduled as a main feature, make sure to select the "Exclusive to FE News" category.
Our Featured Voices section is where non-exclusive thought leadership and Op-Ed articles can be published, this is still at the top of the site, "above the fold."
Featured Voices articles can be shorter (from 400 words), less editorial than feature articles, and include non-exclusive content such as corporate blogs, speech transcripts, sector responses, podcasts etc. If this has been previously published on your own site or social media platform, include a credit to the original post.
Press Releases
Press releases will be published in the latest news section, when you submit your content select the most relevant category to reach your target audience in education, skills and employability.
---
Writing and Style Guide for FE News
Grammar and Spelling
Please proofread and apply proper grammar and spelling to your article before submission. Request corrections by emailing the editor.
Word Count
400-600 words: Exclusive content that is less than 600 words can be published in the featured voices section.
600-2000 words: Feature articles need to be 600–2000 words and be exclusive to FE News.
You will be able to share the article on social networks, but to publish it in full on your own site, please credit FE News and provide a link to the original article.
2000+ words: If your article is longer than 2000 words, we recommend breaking the story up into multiple parts to run as a mini-series. For several articles covering the same theme, such as a newly released report, a mini-series also works well.
Titles and Formatting
Titles: Your headline and first paragraph are especially important in digital publishing. This will be the only text that the audience sees when they first encounter your article. Try to make these self explanatory but enticing enough to encourage the reader to click through to read your article in its entirety.
Subheadings: Use subheadings to break up the text and make your article easier to read by having a subheading for every two or three paragraphs. Using <h2> headers is ideal. Make these bold.
Social meta: Include any relevant tags, such as #HashTags or @TwitterHandles in your first line of text, or subtitle, to maximise your social engagment. Since implementing this technique FE News has seen our Twitter impressions more than double from 500,000 impressions per month to over 1 million impressions per month.
References: Please use appropriate links to research or other references. Priority will be given to FE News links.
Hyperlinks: When using links within your article, choose the option to open the link in a new tab where possible.
Meta description and keywords: If you are using the article upload form, there is the option to include your meta data. If you are submitting you article via email, the default meta data is the title and/or the author of the article, but you can request specific meta data by including this clearly in your email.
Images
Featured image: Each article must have a featured image, which needs to be landscape, and at least 1200 x 800 px. For thought leadership pieces, a headshot of the author is ideal. Add the featured image needs to be added in the edit side panel of your article when uploading.
Inline images: Include inline images in your article by either embedding via a web link URL, or uploading to the FE News website. If you upload images, please make sure that you have the necessary license and the appropriate permission to share them on our site.
Credits and captions: Please include image caption, credits and/or license details under your images.
Format: Images need to be less than 1MB, and can be .jpg or .gif (Only inline images will animate, not lead images).
Size: Provided they are less than 1MB file size, lead images will be resized to 1200px width, and inline images will be resized to 100% screen width.
Alt text: Include alt text for images that describes what is pictured.
Social tagging: If you wish to include inline videos, tweets, or podcasts, add the full URL into the text and these can be embedded.
Style
For the sake of consistency, please aim to:
Spell out acronyms the first time they are used
Write out numbers below 10 (i.e. nine, eight, and seven)
Place periods and commas inside quotation marks and outside of brackets
Use capitals after colons
Use capitals after bullet points
Solution Based Articles
Your relationship with the FE News audience is strongest when you share something useful that showcases your perception and understanding of the relevant issues. Don't be tempted to focus on products or promote your organisation too much.
Building brand trust and authenticity is a natural by-product of establishing individual expertise in relevant subject areas. This is an excellent content marketing strategy, which motivates the audience to do their own further research into your company by demonstrating your competence without blowing your own trumpet.
The majority of our content is geared towards peer to peer thought leadership pieces in education and employment strategy and policy.
Having a solution based perspective, we do also have articles aimed at prospective students, or employers new to apprenticeships, but
One approach to producing a solution based article is to use SPIN:
Situation – Explain a situation that affects many people
Problem – Explain why this is a problem in particular
Implication – Explain the longer term implications if this problem isn't resolved
Need – Suggest a solution, or course of action that could be put in place to work towards a resolution
---
Publishing, Deadlines and Embargos
When you submit your post to FE News, you can choose to publish immediately, or schedule a publication/embargo date and time.
To publish an exclusive article, select "Exclusive to FE News" as one of your category choices. This will ensure that your article is given priority position on the FE News Exclusives Channel, featured at the top of the FE News site, and included in our FE Soundbite Weekly Journal.
We don't have deadlines at FE News. Instead, we schedule exclusive articles for publication as it becomes available.
If you have a specific publication date in mind for your thought leadership piece, for example to coincide with an event, announcement, or research publication, email editor(at)fenews.co.uk so we can pencil in your publication date in advance. Otherwise, we usually schedule the publication date for 5-10 days after we receive it, depending on the forward features list at that time.
You can also email your articles to our automated email upload service at newsdesk(at)fenews.co.uk and they will be automatically submitted to your FE Newsroom, provided the content text is in the body of the email and not an attachment or download link.
If there is an embargo, write it clearly at the top of your text.
---
Editorial Calendar
Here is the FE News outline editorial calendar. This is very flexible and we are very happy to take other topic suggestions:
January – Skills gaps/mismatch and the power of data and business intelligence to drive growth and unlock value
February – T Levels, STEM Skills and Technical Education/National Apprenticeship Week
March – Mentoring, Coaching, Incubators and Entrepreneurship
April – Disruptive Technology, EdTech and the Fourth Educational Revolution
May – The Global Skills Agenda – also at a Regional Level, Adult Education Budget (AEB) Devolution, Industrial Strategy
June – Vocational Training, Adult Learners, CPD, and the Value of Education/lifelong learning
July – Productivity, including 20% Off The Job Training/4 day week
August – Exams and reducing the attainment gap – Inclusion, Equality and Diversity, including Social Justice/mobility
September – Careers Information Advice and Guidance Policy / The Future of Employment and an Ageing Workforce
October – The role of education in the community, widening participation and SEND
November – Skills Shows, Competitions and Celebrations
December – Wellbeing in the workplace, and in education
---
About the FE News Audience
Key decision makers, senior management, executives and policy makers in the FE, HE, Skills, Apprenticeship, Work Based Learning and Employability sector.
FE News had in excess of 173,000 unique visitors per month in 2021 (Google Analytics), which ranked FE News in the top 2000 UK websites (Alexa Analytics).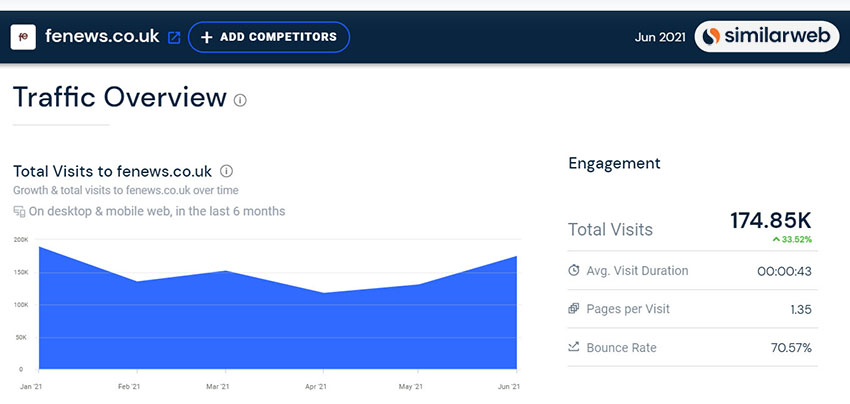 Social Media
FE News has 1.5M monthly tweet impressions, 58,000 followers across social media, 29,000 LinkedIn connections, and over 6,300 newsrooms registered on FE News.
Next we are looking to grow our Collective Intelligence Hubs as a way to progress solution based thought leadership.
Global Influence
Specialising in peer-to-peer, thought leadership analysis of current affairs and recent development within the training, skills and employability sector, Onalytica includes FE News in the top 90 most influential STEM publications in the world! With more than 2.5M page views over the past year, 70% were from the UK and 30% were international.