Higher Education Institutions Towards Digital Transformation—The WUT Case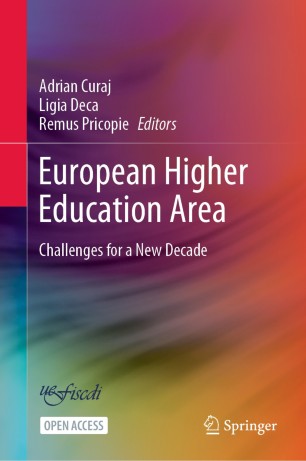 10th Nov 2020: New emerging digital technologies have produced a powerful disruptive effect in almost all areas of our existence and have radically changed the way we live, work, learn or relax, tech such as:
artificial intelligence
virtual reality
augmented reality
cloud computing
blockchain
robotization
the Internet of Things
big data, etc.
Without consciously realizing it, everyone is adapting to the digital era. As nothing "escapes" the all-encompassing digital transformation, higher education follows track too.
So, it is natural to ask ourselves: what are the higher education institutions doing to keep up with this rapidly evolving digital world?
In this paper "Higher Education Institutions Towards Digital Transformation—The WUT Case", we present the case of West University of Timişoara as an example of good practice in dealing with the effects of digital transformation on the university and its academic community (teachers, students, administrative staff).
Our goal is to gain an understanding of what is being proposed through the institutional development strategy, and what is actually happening in our university from the digitalization perspective.
Thus, we conduct an exploratory research using a quantitative approach that involves a survey applied to students enrolled in different study programs, at different levels.
We focus on their opinion about how our university can prepare and transform in order to adopt an integrated digital approach, looking into topics like: technology-enabled services, digital enrollment of students, digitization of the administrative processes, implementation of digital procedures to offer recommendations or file complains, digital curricula, new modes of digital learning delivery, etc.
Our findings reveal that West University of Timişoara must take significant steps towards the implementation of digital transformations, while, however, remaining watchful and cautious of the hidden implications of this process.
---
17th May 2017: Digital transformation refers to changes that digital technologies cause and that influence various aspects of human life.
Previous researchers mainly focused on the impact of the digital transformation in the context of commercial organisations and business processes.
In this study, we aim to examine how digital transformation affects universities and students.
We examine differences and changes in the usage of collaboration and communication platforms between different groups of members at the university and within the university lifecycle.
To gain new insights, a qualitative case study with semi-structured interviews was conducted.
One of the main results shows that Bachelor and Master students prefer the usage of social network sites for collaboration and communication while Ph.D. students and employees do not.
Even though an increasing number of modern platforms for direct communication is offered, the results show that the communication between the groups of students and employees still takes place via email.
Digital Transformation in Higher Education – New Cohorts, New Requirements?
---
Successful award for Konica Minolta on a new National Framework to deliver Multifunctional Devices and Digital Transformation Solutions to the UK Education and Public Sectors
13th May 2021: Konica Minolta Business Solutions (UK) Ltd is pleased to announce its success in being awarded a place on the latest iteration of the Crescent Purchasing Consortium (CPC), Framework, on both Lot 1 (Multifunctional Devices and Associated Services and Supplies) and Lot 2 (Digital Transformation Solutions). The Framework is a national agreement that aims to provide the UK education and public sectors with the best value.
Education establishments are a notable beneficiary of the Framework, a sector that has long been served well by Konica Minolta print solutions, IT services and support.
Reflecting upon the company's award, Jonathan Smith, Head of Public Sector at Konica Minolta commented,
"We are thrilled to be included on this new Framework which provides customers with guidance on procuring the right technology solutions to meet their requirements, including comprehensive tailored support. Along with multifunctional print devices, we will also be delivering digital transformation solutions which are essential for organisations looking to embrace greater working flexibility and the evolution of their workflow practices - the importance of which have become very clear over the last 12 months of disruptions. As providers of essential services, education establishments and public sector organisations need to be investing in digital transformation and doing so with suppliers they can trust."
The Framework is contract managed on behalf of CPC by the Dukefield Group Ltd. One of the objectives of the Framework is to match public sector customers with the right suppliers.
Jon Chamberlain, Group Chief Executive Officer at Dukefield Group explained,
"A key driver behind this latest iteration of the framework is to provide customers with a choice of excellent suppliers, with a diverse range of offerings that meet the specific needs of buyers. This enables them to transform the services they provide whilst also realising greater efficiencies."
Since its initial inclusion on the CPC Framework 10 years ago, Konica Minolta (and the Framework itself) have seen year-on-year growth, with the company currently supporting over 10,203 devices across 1,473 CPC Framework customers. With over 7,800 members, the CPC Framework has aims to expand its footprint within the wider public sector, to deliver its considerable expertise and benefits to a broader range of potential customer organisations.