Two years after leaving Kenya, Mwangi is one to watch
An 18-year-old who left his native Kenya to study in the UK just two years ago, has been described as 'one to watch' after winning a top education art prize.
Mwangi Mungai won the BSA Supporting Excellence Awards 2023 for Best New Artwork Project for his piece, Malvern Displaced.
Mwangi, who studies at Malvern College in Worcestershire, undertook the project after pupils were asked to reflect upon the three times since the school was founded in 1865 that young people had been displaced – twice during World War II and again during the COVID 19 pandemic.
To create the vibrant acrylic piece, Mwangi carefully balanced aspects from the past with modern day  school life. Paint and etchings are overlaid, along with icons from 1865, intertwined with wartime scenes, flowing into characters who today can be found strolling the campus. In the bottom right corner, stands Mwangi's Design, Technology and Visual Arts teacher, Mr Darren Stokes, supervising pupils, who appear to be mid-project. The red characters are, however, pulled from the photo archives and depict two pupils gardening at Blenheim Palace, where pupils were sent in 1939.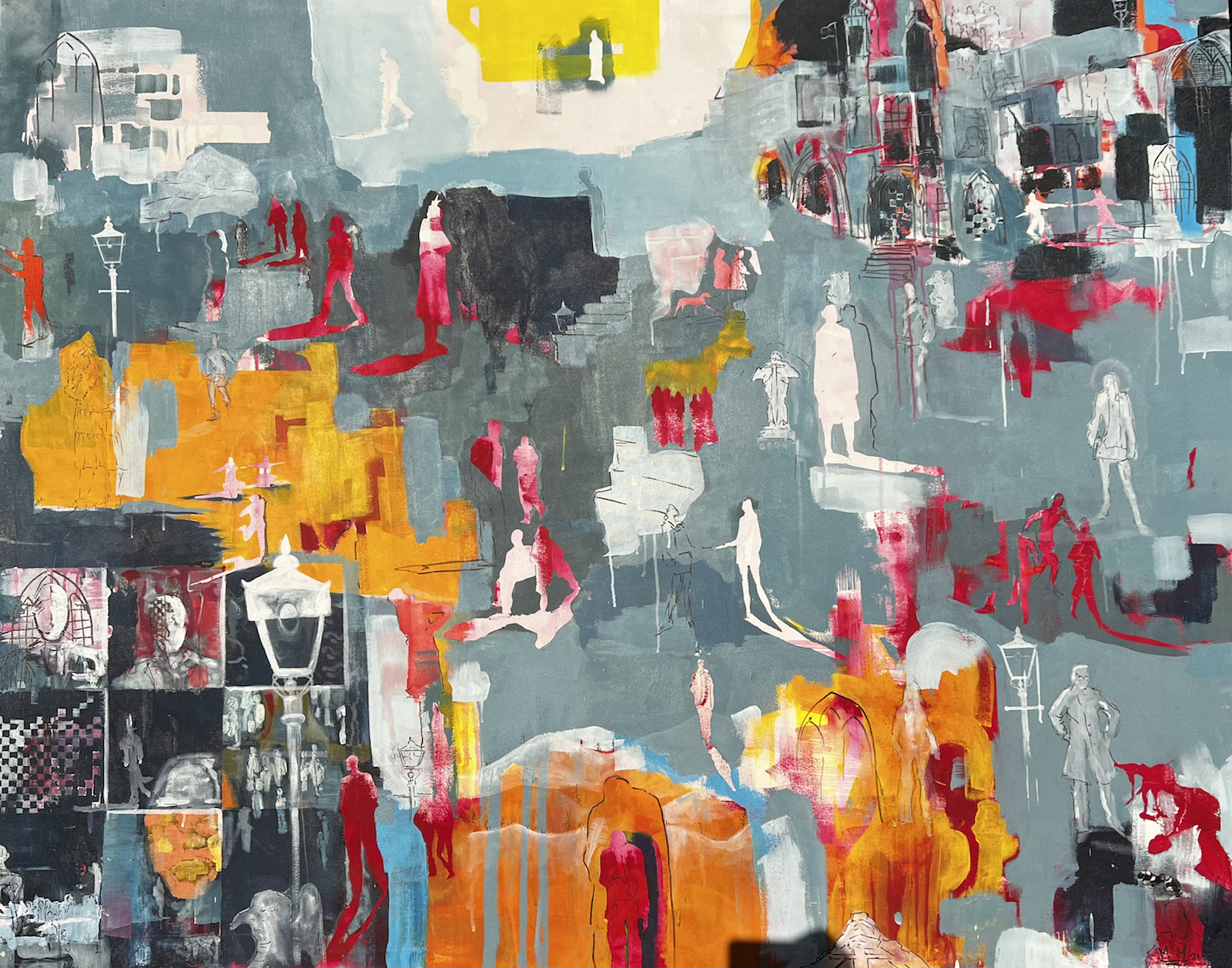 Mwangi researched the school's architecture noting the array of arched windows and doorframes and used the arch as a bridge between past and present. The artwork also features an iconic lamppost, recreated in Narnia by one of the College's notable alumni, C.S. Lewis.
Mwangi said: "I was surprised but incredibly happy to be announced as the winner. I was told I had been shortlisted moments before sitting part of my A-level Art exam, so this was a welcome confidence boost."
Mwangi is due to complete his A-levels this year and has accepted a place at the prestigious St Martin's School of Art, where he will join a Foundation Year practising art, sculpture, ceramics and his much-loved fashion.
Head of Art, Christine Pritchard praised Mwangi's use of colours and vibrancy, seeing it as a celebration that we are now reunited post lockdowns.
Mr Darren Stokes, Director of Design, Technology & Visual Arts said: "As both Mwangi's teacher and tutor I'm incredibly proud that his brilliance has been recognised. He's certainly a name to watch in the future. 
"Mwangi has a passion for art and fashion and is the perfect example of one of our Art Scholars performing at an extremely high level."
Mwangi's artwork now hangs in the central corridor of the school's main building.
Robin Fletcher, CEO of the Boarding Schools' Association and BSA Group, said: "Our annual awards allow us such a fantastic opportunity to support excellence in our boarding community, and celebrate unwavering boarding staff commitment and everything they do to support boarders.
"I am delighted to see another excellent response to our awards this year and our judging panel have once again been hugely impressed by the standard of entries – selecting winners was certainly no easy task!
"We wish all the finalists shortlisted the very best of luck. And special thanks to this year's award sponsors for their support."
Recommend

0

recommendations
Published in Education