Announcing Winners of the EdTech Creator Challenge
Congrats to our #EdTech Creator Challenge winners!
Fun fact: This year's winners are all female-founded companies!
Real-time 3D powers a vast array of immersive learning platforms and tools designed to advance the technical skills of the next generation, and increase access to quality learning experiences around the world.
Unity have spent the last few years contributing our products, technology, and expertise to support more than 400,000 students and educators learning Unity per year.
That is why we partnered with GSV Ventures, the leading EdTech investment firm, funding $7+ trillion in the education technology sector in August 2021. Together we launched the EdTech Creator Challenge to empower creators to continue to change the landscape of education and support ALL learners using Unity.
Today, we are thrilled to introduce the 5 winners of the Challenge, and overall top 25 projects. A team of over 60 internal and external judges reviewed and rated the 250 submissions we received. Each of the Top 5 winners will receive $100K in funding from Unity and $10K of Amazon Web Services (AWS) cloud computing credits from Amazon Web Services EdStart. Our top 25 winners will receive $2K in AWS credits.
Read on to learn how these projects are empowering creators to change the landscape of education and support all learners.
Meet our winners!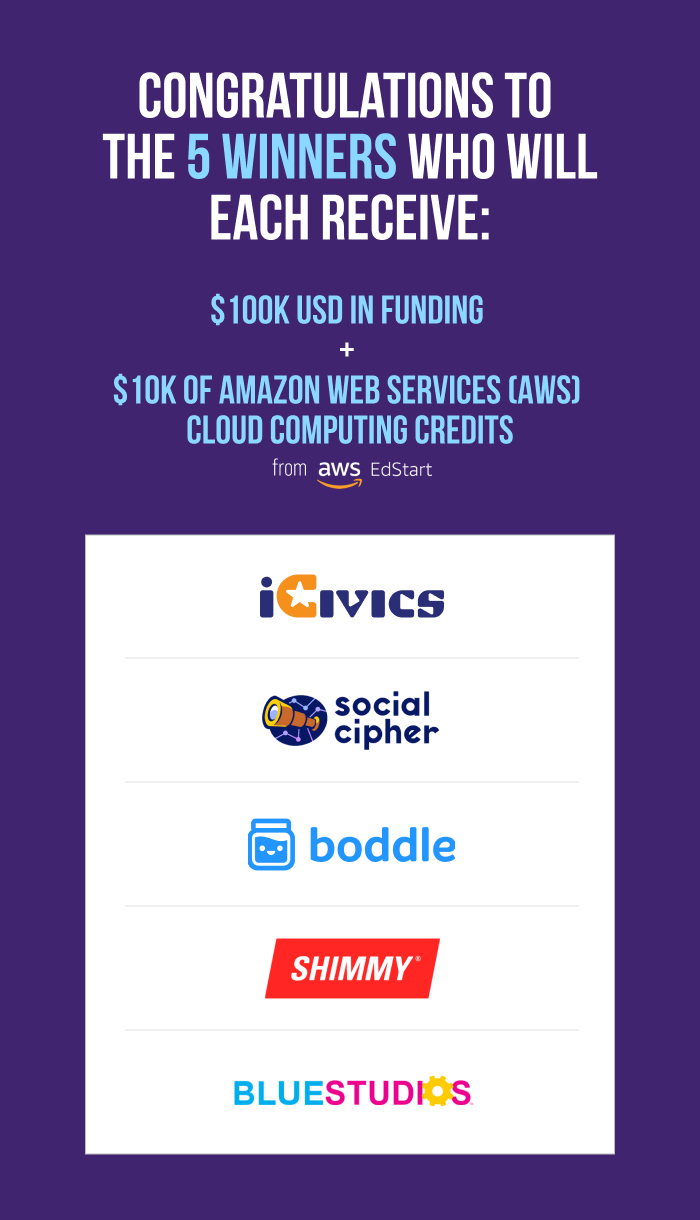 Blue Studios
Expand
Blue Studios is a live and on-demand PreK-12 STEM edutainment platform that leverages automation and synthetic media to create content cheaper, faster, and better, while also enabling any creator in the passion and gig economy. Using game-design principles, they believe that they can create the perfect teacher, accessible to any child, around the world, available 24/7 in any language using synthetic media.
Today, Blue Studios has eclipsed over 10,000 monthly subscribers in over 10 countries to date!
Expand
Learn more about Blue Studios.
Boddle Learning
Expand
Boddle's mission is to create interactive experiences that improve student outcomes and inspire learning, particularly for students in under-served communities. By using AI and gameplay, they help kids in underperforming schools catch up by boosting engagement, and by tailoring learning to the right individual levels.
Boddle Learning currently serves over 425,000 students in 28,000+ classrooms all over the United States and is also used in over 50 different countries. Boddle aims to inspire the next generation of lifelong learners with interactive learning experiences and is building a metaverse where educational content of any subject and topic can be delivered to kids through an ever-expanding selection of interactive games that meet them exactly where they are at.
Expand
Fun Fact: The company was named after the unique bottle-headed game characters that were created to illustrate filling up on knowledge like how you would fill up a bottle. While Boddles are learning, their heads fill up, and then they pour back out to grow plants and perform superpowers. This teaches them the importance of filling up on knowledge and pouring back out to help others!
Learn more about Boddle Learning.
iCivics
Expand
Before founding iCivics, Sandra Day O'Connor had never opened up a computer in her life. But after a 12-year-old convinced her that educational gaming was the right approach to teaching young people what they need to be engaged citizens – she discovered that we can all learn something from kids, and iCivics was born.
iCivics envisions a thriving American democracy supported by informed and civically engaged young people. They champion equitable, non-partisan civic education so that the practice of democracy is learned by each new generation. They work to inspire life-long civic engagement by providing high-quality and engaging civics resources to teachers and students across our nation.
iCivics has found that students who receive a comprehensive and high quality civic education are more likely to be informed and actively engaged citizens and voters. Specifically, they are more likely to vote and discuss politics at home, complete college and develop employable skills, volunteer and work on community issues. Their games and resources are proven – by both external validation and internal measures – to improve students' civic knowledge, civic attitudes, and core literacy skills!
Expand
Over the last five years, iCivics has more than doubled its reach from 64,000 educators and 4 million students in 2016 to 140,000 educators and 9 million students today. We're excited to support their growing impact.
Learn more about iCivics.
Shimmy Technologies
Expand
Shimmy Technologies' AI-powered app-based training is designed to upskill and reskill garment manufacturing workers anywhere—supporting efficiency, spikes in demand, and Industry 4.0.
While automation can sometimes substitute for human work, it also—more importantly—has the potential to create new, more valuable, and more fulfilling careers for humans. Shimmy focuses on understanding how work and automation will evolve over time.
Since 2018, Shimmy has conducted pilots in Indonesia, Bangladesh and the US. They're on track to upskill 1600+ workers in 5 large factories in Bangladesh by the end of 2021 and are in the process of signing agreements committing to upskill and reskill 14,000 more workers across additional factories in 2022.
Did you know? The company name comes from the famous "Shimmy" dance move, originated in the 1900's and was considered a rebellious act when performed. It is also how mechanics describe what happens when you flip the switch on a machine and it springs to life!
Learn more about Shimmy Technologies.
Expand
Social Cipher
Expand
Social Cipher's mission is to to represent and empower youth of all neurotypes, to increase their self advocacy skills, and ultimately, to build their self confidence. Social Cipher is a social-emotional learning (SEL) platform that connects youth of all neurotypes and their advocates (counselors, teachers, mental health professionals) in an immersive virtual world and empowers them to navigate the universe.
Both the game and curriculum are not based on teaching kids how to emulate neurotypical behaviors and rewarding them for their ability to assimilate. Instead, it aims to develop children's social emotional learning skills to help them foster a healthy sense of self.
40% of Social Cipher team members are on the Autism spectrum. They use the framework of the social model of disability to inform their intentions as a company. Currently in pilots with 16 different schools and therapy centers, 94% of professionals reported that their youth were more engaged and motivated to learn using Social Cipher. Above all, 100% of students in the pilot program wanted to keep playing the game series!
Expand
Learn more about Social Cipher.
Meet the 25 Finalists
Expand
We received so many incredible submissions and are inspired by all of the amazing EdTech innovations expanding the playing field and access to quality education for all. Congratulations to the 5 winning projects and finalists. Learn about the 25 finalist projects that will receive AWS credits to support their continued impact:
—
Congratulations again to all of our winners and thank you to everyone who submitted to the EdTech Creator Challenge.
We announced our latest grant opportunities, the Unity for Humanity 2022 Grant and the Imagine Grant at the Unity for Humanity Summit on October 12. The Imagine Grant was created in partnership with award-winning artist, actor, and activist Common and the theme is inspired by his latest single, "Imagine." The grant will be awarded to the project that best 'imagines a better world.'
Applications for both grants are open through December 3, 2021. We're awarding $500K USD in total across the grants. While a single project cannot receive both the Imagine Grant and a Unity for Humanity 2022 Grant, you can apply for both via the same application. Learn more.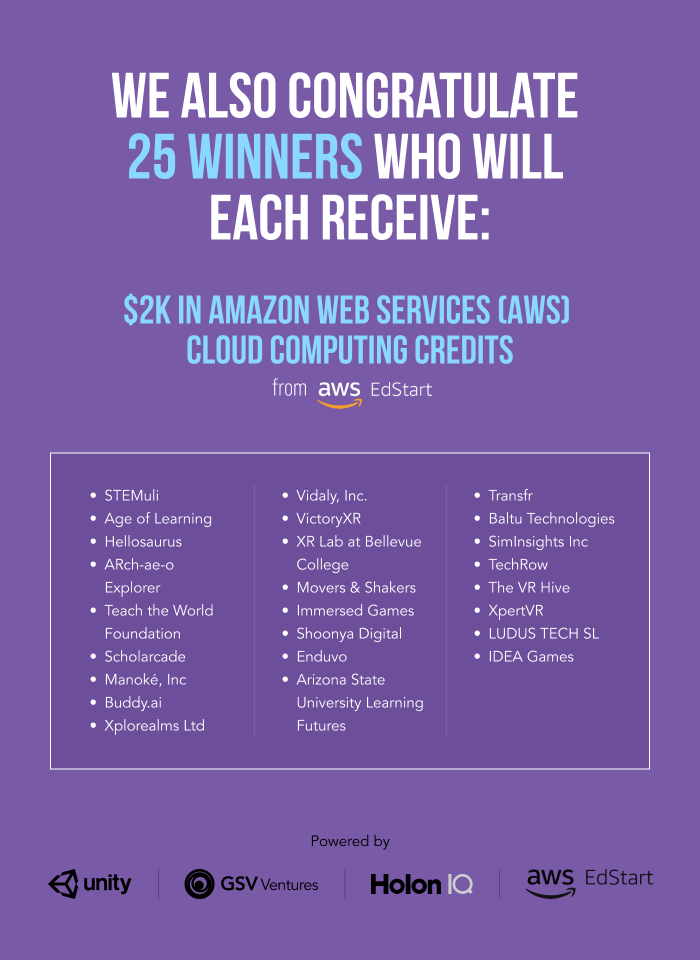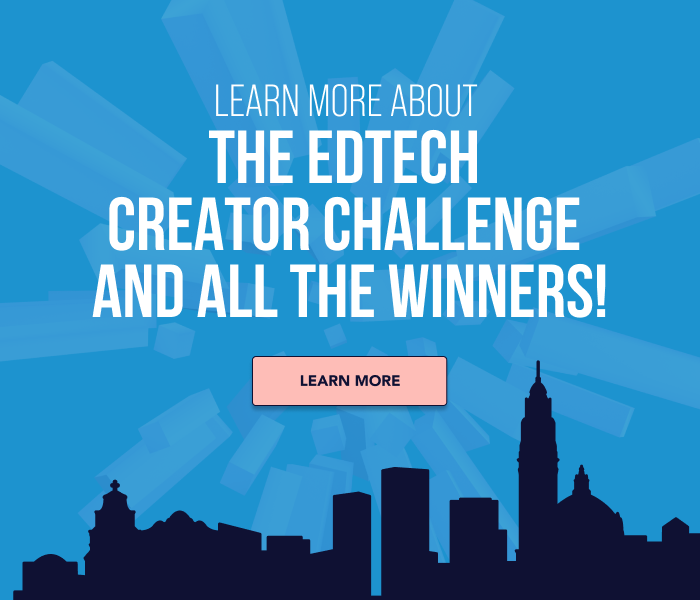 Recommend

0

recommendations
Published in EdTech