Arts University Plymouth Class of 2022: Ones to Watch
Featuring bold concepts and fresh techniques across an eclectic range of mediums, the Class of 2022 already boasts a wealth of experience, winning international prizes, collaborating on industry briefs and coordinating transnational exhibitions.
In no particular order, here are some of the standout graduates to watch from the Class of 2022 at Arts University Plymouth, the UK's newest arts university. Established in 1856 and formerly known as Plymouth College of Art, this year students voted Arts University Plymouth as the top arts university in the UK for overall student satisfaction in the National Student Survey (NSS).
This countdown of some of 2022's most accomplished graduates gives a taste of what can be achieved on a creative degree at Arts University Plymouth, winner of Best Small or Specialist University at this year's WhatUni Student Choice awards. This year, students voted Arts University Plymouth as above the national average in every main category of the NSS. Limited places are still available on courses starting in Autumn 2022 – visit the Clearing pages to find out how to apply.
Beni Jaya Riley's designs at Graduate Fashion Week 2022
'Highly Commended' at the Graduate Fashion Week Collective 2022 catwalk show, Beni Jaya Riley is a designer often influenced by military and active gear. His university final major project focused on functionality as an essential element of future fashion, demonstrating how functionality can go hand in hand with aesthetics. During his time at Arts University Plymouth, Beni has developed skills in research, industrial sewing, pattern-making, designing, illustrating, moodboard-making and more.
Beni's work was selected to showcase as part of the Graduate Fashion Week Collective 2022, he was chosen for the Graduate Fashion Week Talent of Tomorrow photoshoot, and was selected both by Drapers as part of their Pick of Graduate Fashion Week 2022 and by Pause Magazine as one of their top five Ones to Watch from Graduate Fashion Week 2022.
Pause Magazine said: "With the ever-growing popularity and saturation of utilitarian wear in the fashion world, Beni Riley's display at Graduate Fashion Week was a breath of fresh air. Coming in as 'Highly Commended' for their GFW Collective Catwalk Show, Riley's individual silhouettes, succinct colour pairings, and utilitarian stylings made their looks stand out from the crowd, with multi-pocketed garments, distorted all-over glitch designs, and hybridised accessories making this selection of pieces arguably one of the most ready-to-wear in this year's display. The standout from the looks has to be the oversized quilted blue poncho that simply encapsulates the essence of utility and high-function. One for the future."
Work by Stella Olivier
Stella Olivier is an Italian-German visual artist based in Plymouth, UK. Influenced by historical mimesis, post-internet theories and the mundane, she creates surreal works that reflect on escapist cycles within the history of art and design. Drawing on the hidden connections between digital semiotics and antiquary, she merges artefacts, old architectural structures and scenes from her day to day life to build digital collages. Her work appears both foreign and familiar.
During her time at Arts University Plymouth, Stella was shortlisted for a Venice Biennale Fellowship programme by the British Council and Arts University Plymouth, her work was exhibited during 'Late At Tate Britain – LIFE BETWEEN ISLANDS' and Stella was selected for a Tate Exchange brief that turned into a social project aimed at revitalising Plymouth's Soup Corner. Stella's designs have twice been published as Christmas cards sold nationally by Tate, she won a 12-month internship with Elegant Clutter as part of the Art Story Student Competition and Stella has also acted as a Steward for Low Profile and guide for Plymouth's Illuminate light festival. Stella was a participant in the Atlantic Youth Creative Hubs business incubation programme, her reviews have been published on the Arts University Plymouth website and the university has also commissioned her as a freelance graphic designer.
Olivier's worlds are formed through multiple editing stages that involve artificial intelligence, digital embossing and virtual sculpture. Core aesthetics (Cottagecore, Fairycore etc.) influence her art as much as what she is able to find on walks or what lives in her subconscious through years of classical art studies. Her work is oftentimes connected to fictional narratives that capture the philosophical questions that emerge in our digital hyperconnected, fast pace shareable and all knowing online lives. Olivier's most recent project centres on layered memory, the digital gaze and the history of stone within international urban design.
Shri Gunasekara with her work at the 2022 Summer Show
Shri is an illustrator who specialises in sequential image-making. Her work explores family dynamics and intimacy, visualising emotive narratives by using bold shapes and compositions, as well as vibrant colours and textures, to give her digital work an organic feel. These ideas are explored through experimental formats, testing the boundaries of picture books, graphic novels and comics. Shri's projects are an accumulation of fun and intimate family connections through a vivid and exuberant palette of text and visual storytelling.
At Arts University Plymouth's 2022 Summer Shows, Shri was awarded the first Vice-Chancellor's Commendation. Professor Paul Fieldsend-Danks, Vice-Chancellor of Arts University Plymouth, said:
"Since her first year with us, Shri's academic team describe her as being a beacon of hard work, kindness and generosity. Her creative work is truly exemplary and her hunger for learning and progression are equally exceptional. Shri has acted as a student representative for her year as the result of a student vote from her peers, despite the fact that she hadn't put her name forward. Other students nominated her because of how generous and helpful she is within the cohort. We're grateful for Shri's contributions to our community and confident that because of the high quality of her work, she has a bright future ahead."
During her studies Shri was also selected by MIRROR for her creation, The Artist's Dilemma, a response to Conway & Young's 'Hammer to Shape, Mouth Open' for students to create a changing artwork that will appear on the MIRROR homepage.
Bonnie Mustoe-Whitehill's work
The 2022 runner-up for New Designer of the Year, Bonnie is a research-led mixed media artist, curious about the psychology of touch and play. She encourages her audience to feel the visuotactile qualities of the objects she creates, to satisfy the impulsive sense of curiosity experienced when discovering something new.
Mindful and mindless exploration is something that Bonnie finds herself doing a lot when interacting with tactile objects, which she describes as a playful experience or a state of flow, a strong sense of calm or a few moments of uninterrupted mind-nothingness. These interactions can often lead to reduced feelings of stress and anxiety, and she hopes that others might experience this too.
Creating object designs that are derived from fruit, vegetables and seeds, Bonnie focuses her creative practice largely on casting techniques, working with various materials such as glass, fine metals and rubbers to transform artefacts into objects with unexpected qualities.
Bonnie won an award of £500 at New Designers 2022 as runner-up for the coveted New Designer of the Year prize, with judges saying "Bonnie showed experimental materials at the heart of design, broadening perspectives of jewellery in our post-Covid world and encouraging touch and relationship with objects."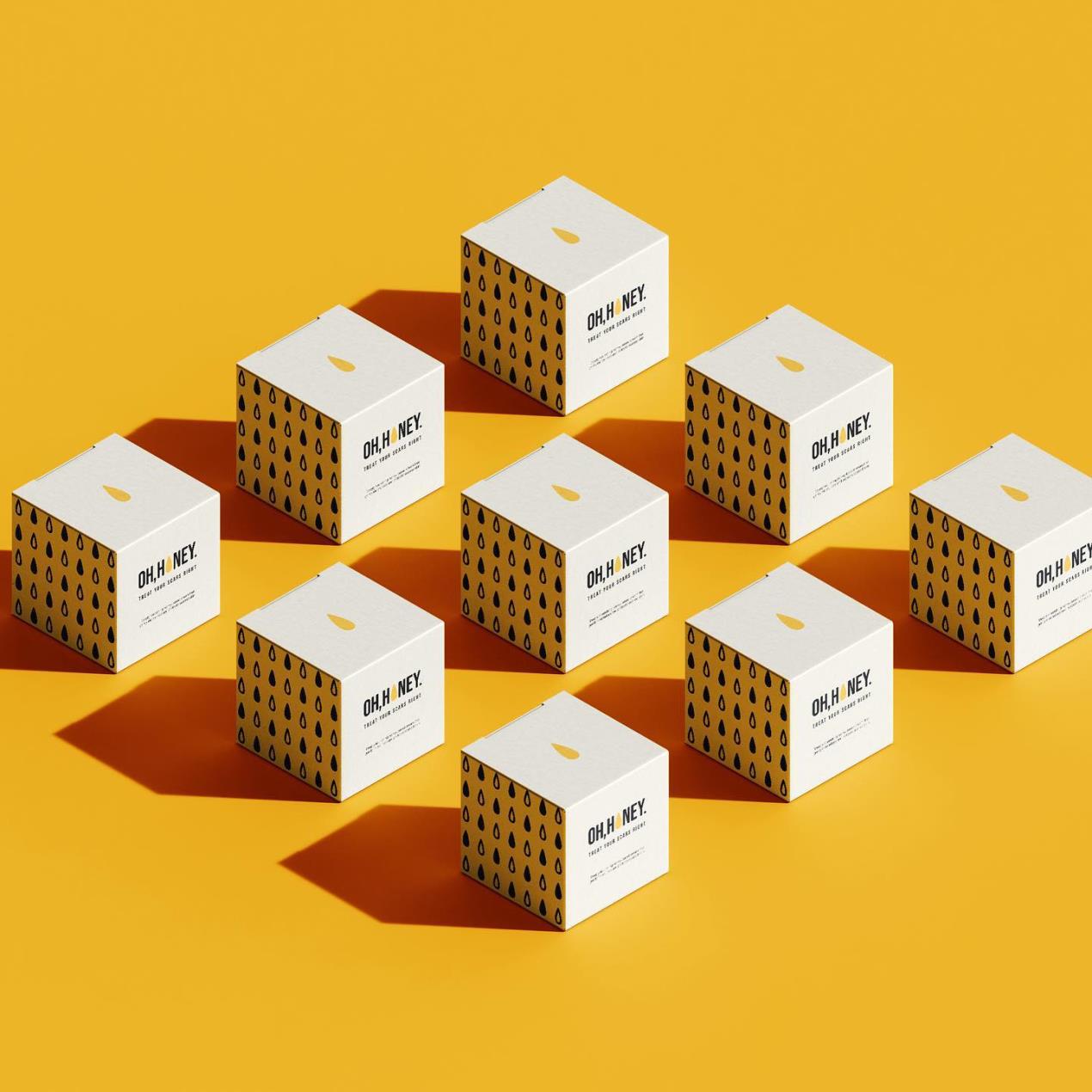 Oh Honey, a branding project for a honey based cream that is designed to protect and aid the healing process of scars, by Jade Storey
Jade Storey is a Graphic Designer who loves all things bright, colourful and bold. Jade designing for a purpose, with a strong message behind much of her work. She believes that as a designer it is important to focus on why you are creating something. "If you can answer that, then it is guaranteed to be a success." Jade is interested in all things branding and uses a lot of bold colour in her designs, as well as doing some typography work. Her graphic design heroes are people like Jessica Walsh, the founder of the creative agency &Walsh, and Paula Scher from Pentagram.
Jade would love to work in branding for a big beauty company like Benefit or Too Faced, or a large fashion brand like Ted Baker. Her freelance work to date has included album covers for local musicians and poster work for music production companies. During her time at Arts University Plymouth, Jade completed a design placement at Brand Biscuit Studio.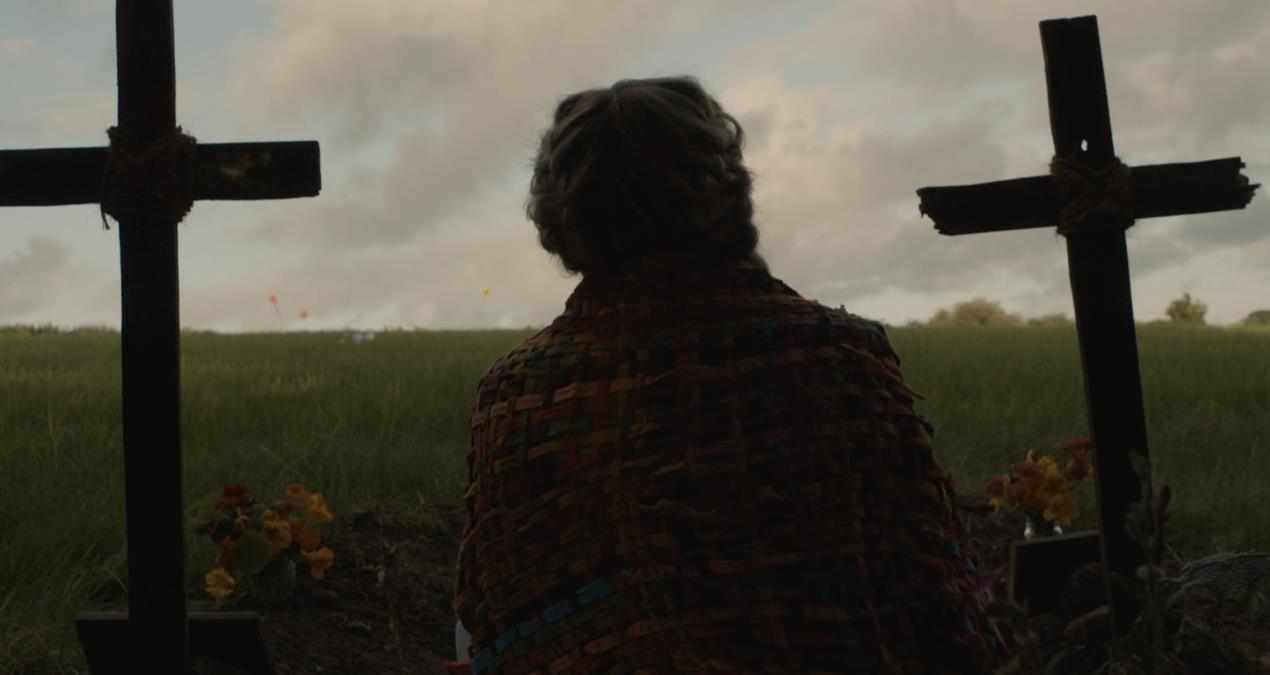 Still from Izzy Wilkinson's short film 'Hysteric'
Izzy Wilkinson is a theatre and film practitioner based in the South West of England. Alongside working freelance in various crew roles on projects, including for Cornwall's Coppice Theatre, she also creates her own work and is passionate about creating opportunities and connecting with the Devon & Cornwall creative network. Her productions explore the portrayal of complex female protagonists, prioritising a regional voice in her storytelling. Izzy's career as a maker started when she co-created & produced a two-woman theatre show, 'There's no 'F' in Jonathan' which debuted at the Burrell Theatre in 2019. Her more recent works include two short films; 'Hysteric', a colourful zombie apocalypse comedy-drama, and 'Tebel Venyn', a folk-thriller set on the coast of Cornwall.
Izzy said: "In Spring 2020, during the height of the pandemic, I applied to study abroad and by the end of the Summer of 2020, I had packed my bags and travelled to Iceland to study 'Theatre and Performance Making' at Iceland Academy of the Arts. Throughout my degree I have worked freelance in both theatre and film and aim to forge a career that is across both disciplines."
Pancakes by Ashleigh Pay
Featured by Creative Boom in their Class of 2022 guide to the UK's graduate shows, Ashleigh Pay is the founder of Ashleigh Pay Studios and is a still life photographer based in the UK. With a bold, crisp and colourful style, Ashleigh's work combines still and moving images to excellent effect, particularly in her commercial gifs.
In addition to her work with still life, Ashleigh also acts as a nightlife photographer at Fever and Popworld Plymouth.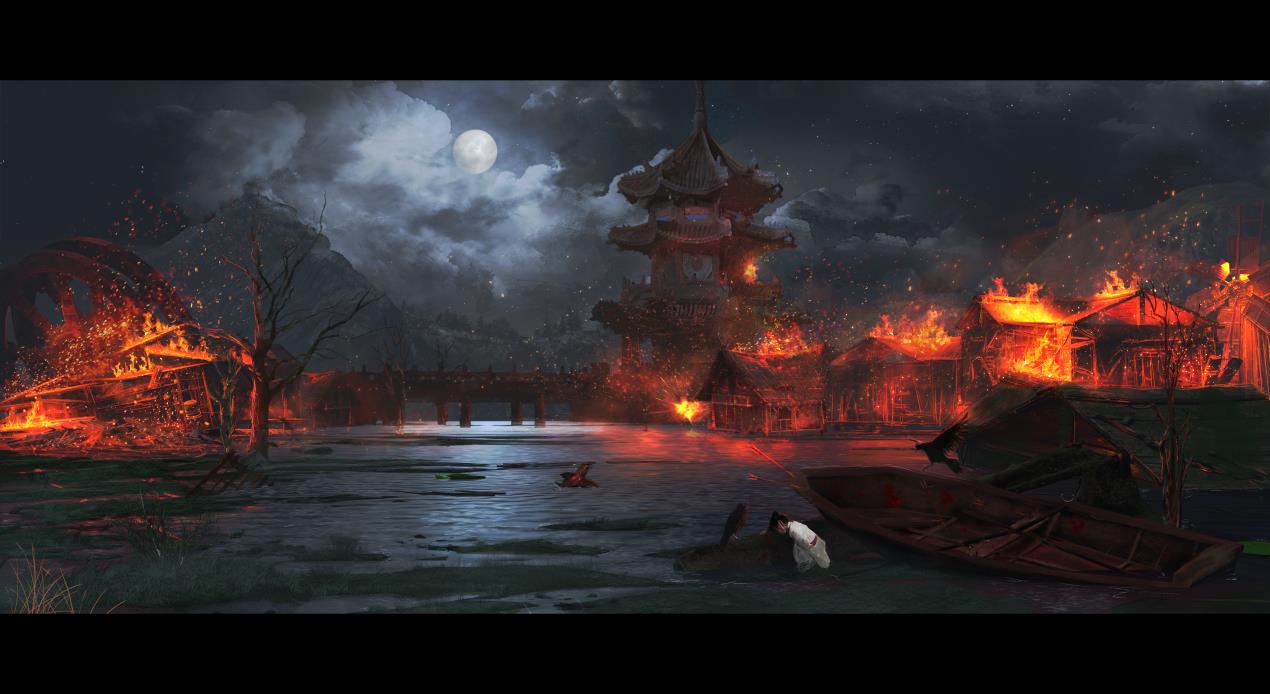 Concept art by Bogdan Iwaniuk
Originally from Poland, Bogdan Iwaniuk is a concept artist and illustrator in creative media. With experience in Photoshop, Maya, After Effects, Illustrator, Substance Painter and Audition, Bogan is a highly-skilled environmental world builder.
Much of Bogdan's work to date is based on fantastical landscapes, taking a realistic approach to each setting and striving to accurately depict what usually goes unseen. With a focus on environmental beauty, he pays close attention to diverse aspects of life and imagination in order to create unique landscapes. Bogdan's final major project at Arts University Plymouth, 'The Bestowed Child', is based on the concept for an RPG inspired by history, following a miracle-born human child who has been tasked with restoring order from the tyrannical rule of an ancient dynasty.
Faye Bentley's work on display at the 2022 Summer Shows
Faye Bentley is a textile designer-maker based in the South West of England, taking inspiration from the natural world and specialising in the technique of tufting. Passion about all things colour and texture, she creates one-of-a-kind pieces that range from soft furnishings, such as her tufted scrap cushions, to tactile artwork and wall hangings.
Featured by Creative Boom in their Class of 2022 guide to the UK's graduate shows, Faye is committed to creating by hand and having a zero-waste policy by finding innovative ways to make use of all textile by-products. She aims to create colour, life and tactility with every piece.
Sue Bown, winner of Arts University Plymouth's first Pro-Vice Chancellor's Commendation Award, is a painter and printmaker whose practice is an embodied enquiry into movement and the body in space. Using gestural mark making and layering, she takes the viewer on an uplifting journey into space and place. Colour, scale and materiality are important as is the physicality of moving paint on a surface.
Sue's latest body of work is based on geometrical shapes and colour relationships and she uses the interplay of these to amplify her message. Sue uses printmaking to inform painting and vice versa, seeking to create a hybridity between the processes. Collaboration is a strong component in her practice, where she has observed the power of creativity in breaking boundaries and forming a cohesive community.
During her studies, Sue contributed to the creation of a hand-made, editioned, original catalogue for Another Crossing, a collaborative exhibition organised by Arts University Plymouth, The Box and the Fuller Craft Museum of Massachusetts. In September 2022, at Impact 12 International Printmaking Conference in Bristol, Sue will have work featured in a collaborative printmaking exhibition organised by Arts University Plymouth, Belfast School of Art, Ulster University and Baylor University, Texas. Alongside this, Sue will be representing Arts University Plymouth in a panel discussion on the theme of collaboration and breaking boundaries. Also, at Impact 12 Sue will have work included in a curated exhibition entitled Split Practices, which showcases the impact of the pandemic on an art practice, a subject that she researched in her undergraduate dissertation.
Arts University Plymouth Pro-Vice Chancellor, Dr Stephen Felmingham, said:
"Sue's paintings demonstrate a profound understanding of material, colour and form, which she employs in a series of mature and confident works. These are outstanding paintings that resonate deeply with the view and are a testament to the immense hard work she has put into her practice during the course."
Image by Bethany Hobby
Bethany Hobby is a multi-skilled, ambitious and proactive graduate with a background in content creation, photography, and TikTok, all based around promotional strategies and driving conversations.
Her experience includes filming TikToks and working on campaigns for the content creator at Charlotte Tilbury on their Beautiful Skin campaign, creating and delivering a series of reels exploring their latest range of beauty products. Bethany has edited and developed a visual campaign strategy of TikTok content for Brighton-based Tegen Accessories. Bethany has worked as First Assistant on campaigns for London-based Gavin SF Productions, filming behind the scenes content for commercial fashion shoots.
Bethany has strong Capture One and Adobe Suite skills, including Photoshop and Lightroom, with specialisms in content creation for social media. An enthusiastic collaborator and team player with the proven ability to meet deadlines to a high standard, Bethany's strong content creation, visual storytelling and technical skills make her a strong addition to any team.
Harry McCallum is a contemporary documentary and portrait photographer engaging with notions of identity, sexuality, interactions with domestic space and socio-political relationships. He is passionate about creating provocative projects that encourage the viewer to consider alternative perspectives.
Harry's most recent project, 'We, The Queer' examines the LGBTQ+ community within the South West of England, documenting individuals within their immediate domestic settings. The work focuses on themes of queer loneliness and seeks to address broader aspects such as the lack of mental health funding and safe spaces. Alongside the portraits are short statements written by the model, giving insight into their experience and stories. The work acts as both a challenge and a provocation when considering notions of difference. Alongside the images are handwritten personal statements from each model, detailing their experiences.
Mirella Dry is a Print Designer from Yorkshire, who creates versatile print designs for fashion, interior and stationery markets. She uses a variety of techniques, including screen printing and digital software, to produce vibrant and playful designs based around flora and fauna and the natural world. Her passion for print and textiles is reflected in the final designs but also in the creative stages, as she immerses herself in drawing, dyeing and colour mixing.
Mirella's final graduate collection at Arts University Plymouth, 'Succulent Terraria', explores succulents as the natural world's unique curiosities, taking inspiration from their unusual forms and fascinating adaptations. Her print collection uses bright colours and larger-than-life motifs to provide an enthusiastically playful way of being immersed in nature. The prints are a selection of hand screen-printed designs and digitally printed fabrics intended for the fashion market. Inspired by the growing trend in houseplants and funky print trends, 'Succulent Terraria' feeds off the need to bring nature in and surround ourselves with stress-relieving plants.
With a passion for residential interiors and a love of educational design, Sophie Elkin is an Interior Design and Styling graduate who is fascinated by the interiors that surround us and how spaces can be tailored to a person's style or needs.
Sophie has an eye for colour, detail and up-to-date trends, giving her a competitive edge for briefs that encourage innovation and experimentation. Considering herself to be a passionate and creative individual who takes inspiration from Scandinavian design trends, Sophie enjoys exploring these concepts through residential and educational spaces. She specialises in interiors that convey a clean and minimalist style, aiming to integrate functionality and aesthetics of natural light to encourage sustainability.
Winner of the Special Recognition Award at IDVC Blackpool in 2020, Samuel McCready is an artist who specialises in costume and prop making, with an interest in vintage and historical costuming. He has a deep fascination with period costume as well as atomic-era science fiction. The costumes that Samuel has made range from characters like Oliver Cromwell, Cyrano De Bergerac, and the Scarlet Pimpernel to an interpretation of a Cyberman design illustration created by Alexandria Tynan.
The materials that Samuel enjoys working with are diverse, ranging from traditional tailoring/sewing methods with wools/leathers/cottons to those used in the prop-making industry such as Eva foams, rotocasting resin, moulding silicones and perspex. Throughout his studies, Samuel has volunteered at performance companies including South Devon Players Theatre & Film Company, Shiphay Amateur Dramatics Society, and has made puppets for productions by Stiltskin's Soapbox Children's Theatre.
Recommend

0

recommendations
Published in Education