Student Aaliyah Kempthorne commended by judges at the Royal Opera House
17-year-old Arts University Plymouth student from Ivybridge commended in the national Design Challenge
Aaliyah Kempthorne, a Pre-Degree student from Arts University Plymouth, has won a Commendation from judges at the Royal Opera House's national Design Challenge.
17-year-old Aaliyah, who lives in Ivybridge and is in the second year of her UAL Level 3 Extended Diploma in Creative Practice: Art & Design, was one of a number of students at Arts University Plymouth's sixth form campus, Palace Court, to enter the 2022/23 Design Challenge. This year's challenge was based on 'The Magic Flute', challenging students to follow the processes of a professional designer to meet a brief set by a professional director.
Aaliyah won the FE Commended for Stagecraft award from judges for her set design concepts. As part of the commendation, Aaliyah has been invited for a one-to-one sketchbook review with judge Ruth Paton, an internationally-acclaimed set and costume designer who also works as Lead Education Practitioner and Lead Artist on the Design Challenge for Royal Opera House and Lead Education Practitioner for English National Opera. Aaliyah's commended design will also feature as part of the public Design Challenge Winners exhibition in the Linbury Foyer at the Royal Opera House from 8 to 22 June 2023.
Aaliyah Kempthorne
Aaliyah said: "I was shocked to hear about the commendation, it's good news to hear. I put the project in because I thought it would be a great experience to submit work to the Royal Opera House, but didn't expect anything beyond that. The experience has taught me to be more confident about my work – the making, my ideas and the whole process. I feel more able to test materials, take risks with my ideas and produce the outcomes that I imagine.
Design to Sell 2022 – An annual art fair for Pre-Degree students at Arts University Plymouth
"Initially I chose Pre-Degree study at Arts University Plymouth because I wanted to study art further and when I looked around, Arts University Plymouth had a dedicated space and level of expertise that other local colleges couldn't offer. My next steps are that I've been offered a place studying BA (Hons) Costume Production at Arts University Plymouth that I hope to take up. I should be well prepared after time working with Theatre Royal Plymouth on the People's Company Stage Management Course and gaining additional experience with TR2 in relation to stage management and set design."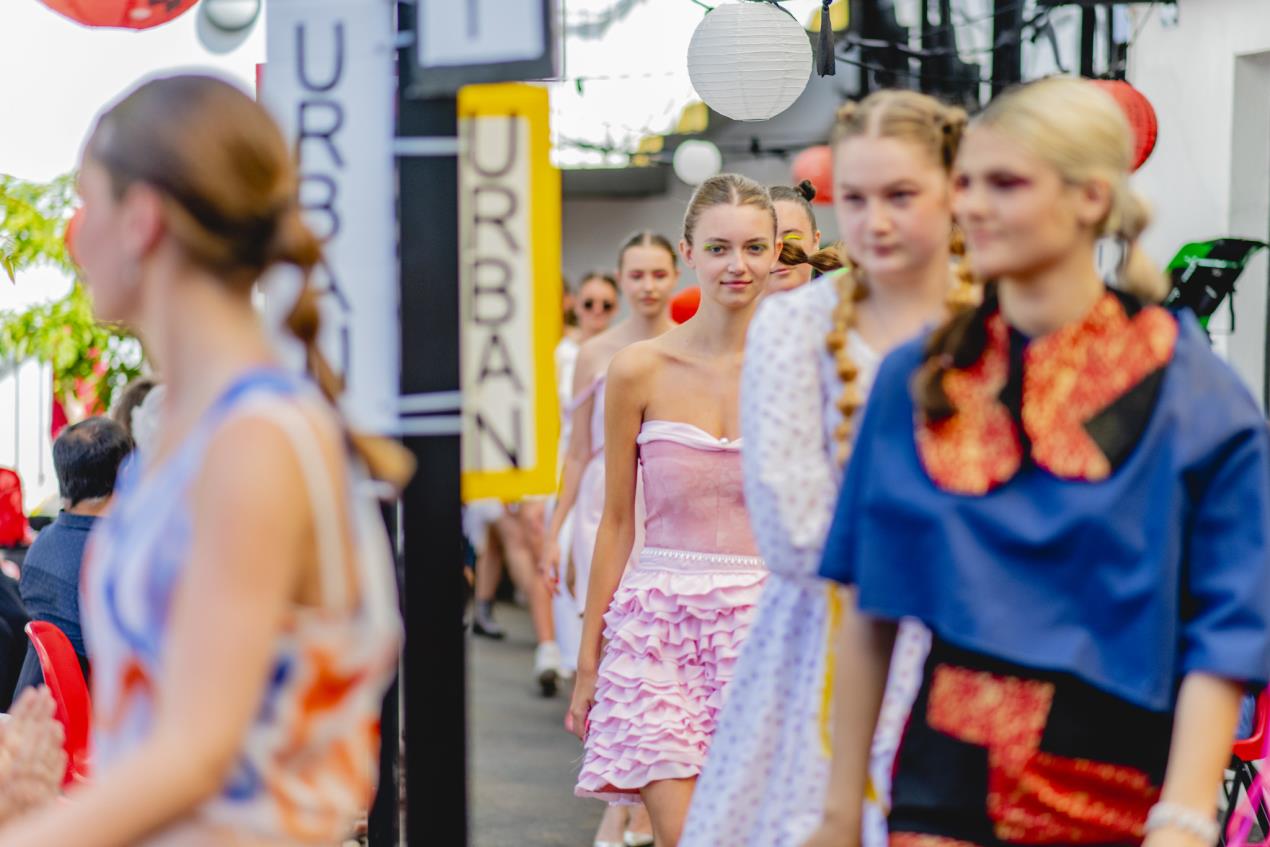 Pre-Degree students at the annual Summer Shows at Arts University Plymouth
The Design Challenge is a Royal Opera House initiative for students completing A-Level or GCSE-equivalent qualifications from across the UK to demonstrate their skills in research, concept development, and designing to a brief, as well as showing the confidence to present their original ideas to a professional design specification. The Royal Opera House is an opera house and major performing arts venue in Covent Garden, central London, which is home of The Royal Opera, The Royal Ballet, and the Orchestra of the Royal Opera House.
Bryan Parsons, Subject Lead for Pre-Degree Art and Design, said:
"Aaliyah has focussed her energies on developing skills and material tests to improve her model-making skills, so that she can effectively realise her ideas. She has worked independently with professionalism and dedication, overcoming hurdles and difficulties to refine her outcomes. Aaliyah has thrown herself into the design process and has enthusiastically explored the world of theatre design to inform her project, evidencing professionalism in her project management. It's fantastic that the judges have recognised her hard work and dedication with a commendation."
Recommend

0

recommendations
Published in Education