Designer Helen Round visits Arts University Plymouth to inspire Textile students
Helen Round, a renowned textile designer and maker based in Cornwall, visited Arts University Plymouth to challenge students to a live industry brief.
Helen Round is known for her use of natural materials and fine line drawings, capturing the surrounding beauty of Cornwall. Inspired by the flora and fauna of the Cornish countryside and coastline, Helen Round's products include tea towels, placemats, toiletry bags, cushions, lampshades and much more.
Students were given the opportunity to design a print for a product to add to one of Helen's collections, with an emphasis on keeping true to her signature style but creating something new and exciting. Using the natural inspiration of the local area around them, students were asked to create a design that could be screen printed in a single colour, working into Helen's existing linen fabric colours and onto a range of existing products. The design could be figurative or lean towards abstraction, but it must have its roots in nature and have a strong connection to the British countryside.
Helen said, "It was amazing to work with the textiles students and staff. I have a background in teaching and although I now run my own business, I sometimes miss the inspiration and fresh ideas that come from being surrounded by creatives. I love to collaborate with students and other creative businesses alongside my wonderful staff to keep the new ideas flowing."
"Arts University Plymouth's textiles degree seems to give a thorough grounding in design and different techniques. The students are always keen to supplement this with work experience, putting their ideas into practice. It's been fun and inspiring to work with them on this live project. The brief for our latest project was to step away from our panels of print to produce a continuous, repeating pattern, suitable for different products and colours of linen fabric."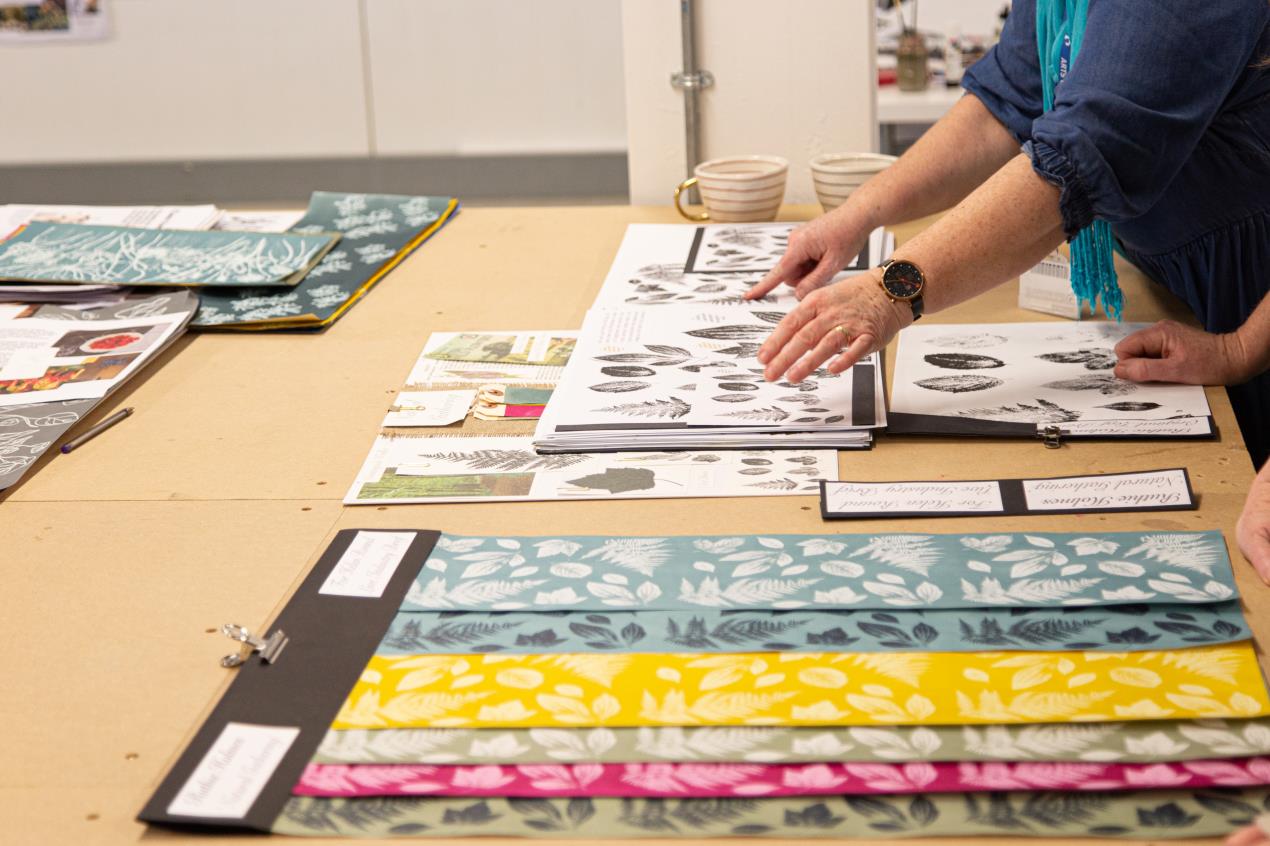 The successful student will have their work featured in Helen Round's monthly journal and newsletter and on their social media pages as well as a one week work experience opportunity where the student can engage with all aspects of the business, from print and cut to manufacturer and sales, with the chance to join the team in the studio to see their final design printed and made into products.
Helen chose second year Boo Crispin's work for the collection, noting the simplicity and flexibility of the design.
Helen said, "Boo's approach was simple, beautiful and flexible. She understood our brand and came up with a simple design that met the brief perfectly. She was also open to challenge and has worked with us to modify her original design as our plans evolved since the beginning of the project. We are launching in September 2023, with Boo's design repeating on new autumnal coloured linen across our product range. We anticipate that the design will match the autumn winter season perfectly and assuming that sales are good, we may translate her design to a spring colour too."
Second year textile design student Ruthie Holmes attended Helen's workshop and took part in the live industry brief.
Ruthie said, "Working on an industry textile print brief for Helen Round was a real privilege and I feel extremely thankful for the opportunity to create designs for her collections alongside my fellow second year Textile Design students."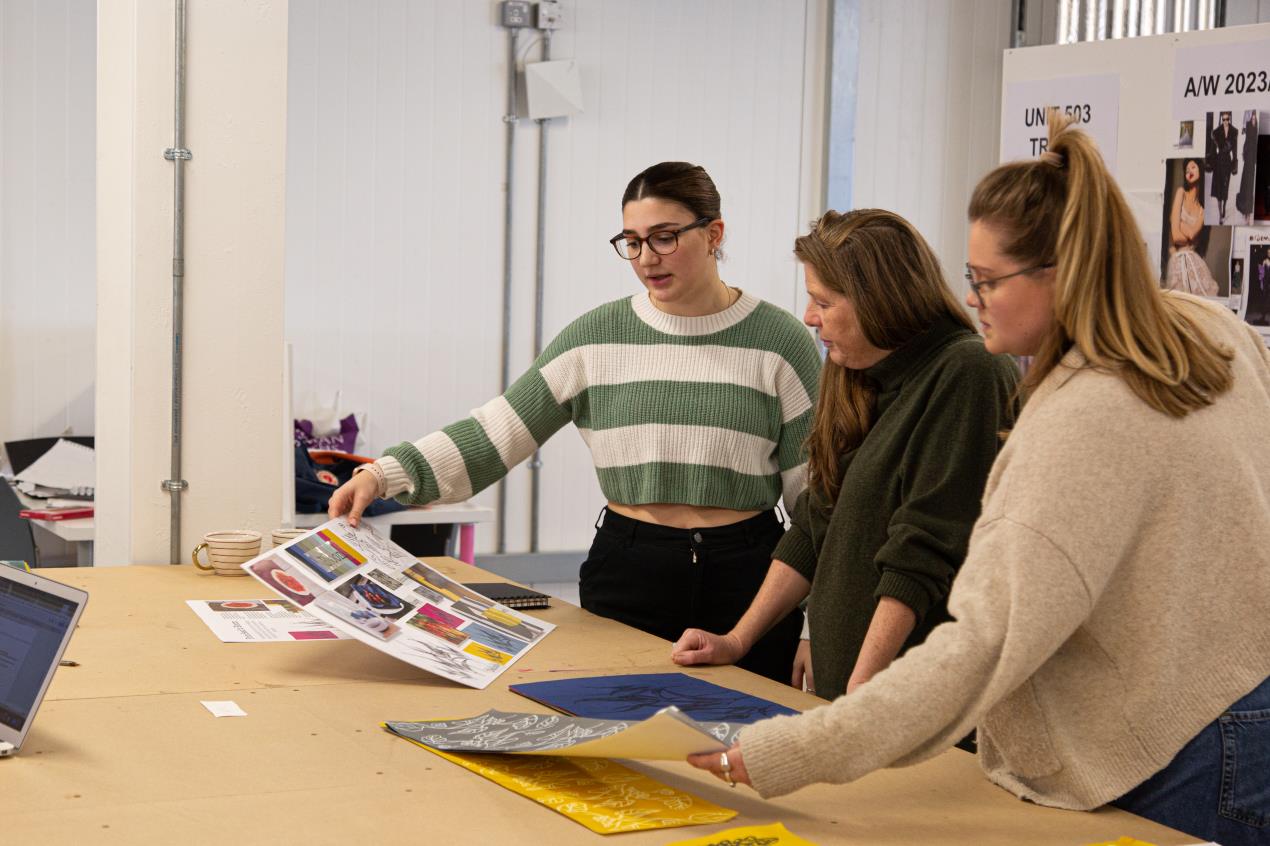 "Designing and creating my print designs with a quick turnaround time was a good learning curve for me. It challenged my digital design skills in Photoshop with editing, visualisations and repeat pattern making as well as InDesign for magazine layouts, of which I was a complete novice! It didn't come naturally to me but with perseverance, I was able to get it done!"
"One of my favourite parts of the project was the initial design phase where I was able to indulge in drawing. I chose British wild flowers as my subject, focusing on foxgloves, dog roses, poppies and daisies, producing my illustrations by hand using pencil then pen and ink. Another favourite part was creating a story for the collection, using nostalgic happy childhood memories I had learning the names of wild flowers and the pressing and printing of leaves as a child. I named my collection 'Natural Gathering' which represented the butterflies flocking to the wild flowers and the leaves that naturally scatter together."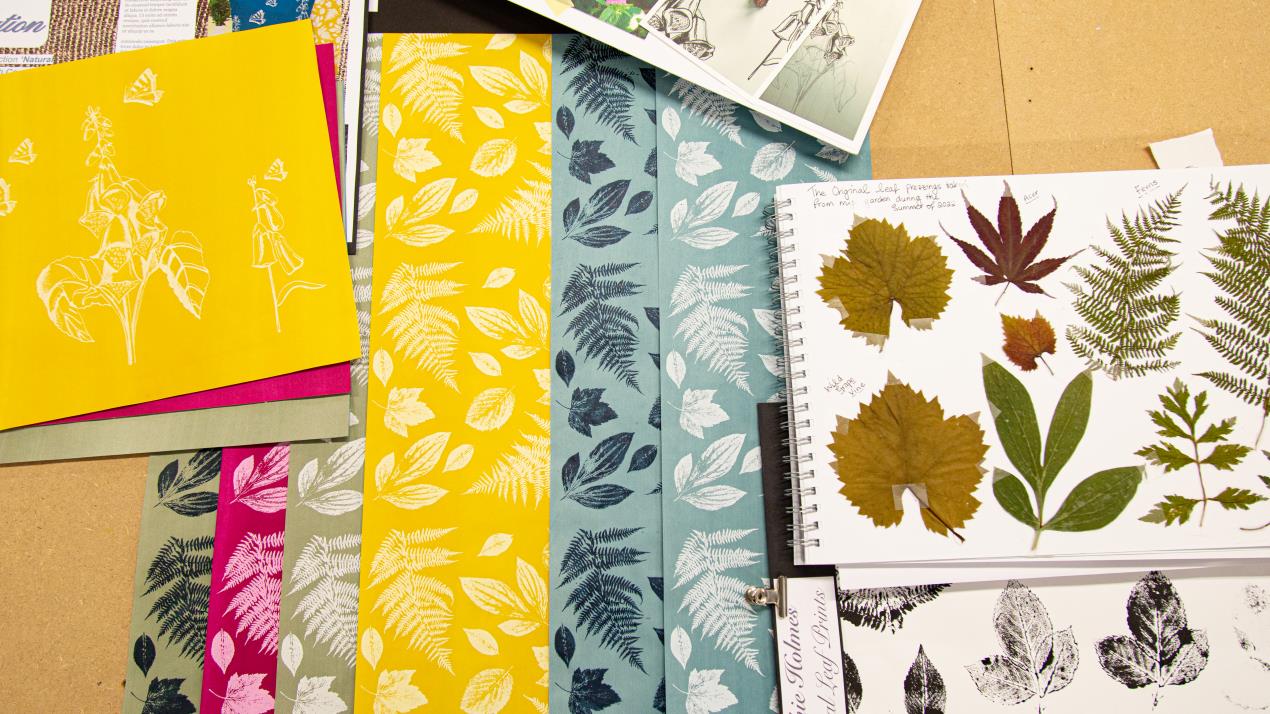 Emma Gribble, subject leader for BA (Hons) Textile Design said,
"Industry led projects such as Helen Round's play an essential role in the education of our textile design students, helping students develop their skills and creativity. Helen's insights have been invaluable for our students. The British textile industry is a world leader in innovation and design, and it's vital that students are exposed to the latest trends and developments, preparing them for a successful career in the industry."
In addition to visiting lecturers and live industry briefs, members of Arts University Plymouth's BA (Hons) Textile Design team have been working on a number of sustainability projects. The team worked with the National Trust to establish a new plant garden for natural dye, using heritage-inspired plants. Teaching the students at Arts University Plymouth about alternative methods to the use of synthetic dyes, this allows students to work with dyes that are more sustainable and less damaging to the natural environment.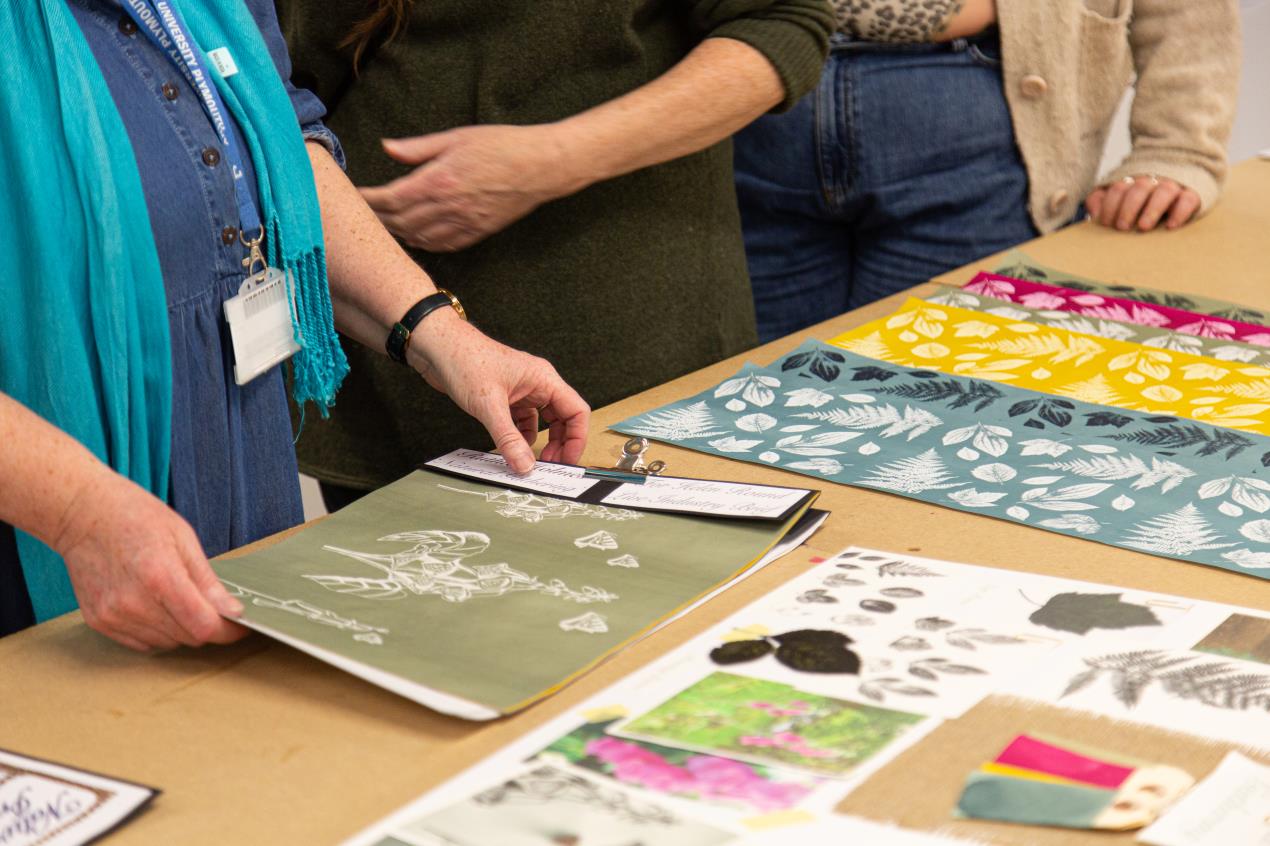 As well as this, Charlotte Warren, lecturer on BA (Hons) Textile Design and researcher from Arts University Plymouth recently partnered with pioneering clothing manufacturer Finisterre to support dye mapping within their supply chain, minimising the impact of dyes on the ocean and waterways.
Incorporating cultural and social contexts of textile practice is fundamental to the BA (Hons) Textile Design course, with first-hand opportunities as real-world experience working with prestigious designers and makers, study trips overseas and sponsored industrial projects with brands and studios. Find out more about BA (Hons) Textile Design on our website.
Recommend

0

recommendations
Published in Education, Skills and apprenticeships