Just 6 of the FTSE100 companies have 50% + female boardroom representation
Diversity within organisations is a major talking point around the world. According to a report by the World Economic Forum (@WEF), global gender equality will take another 100 years to achieve.
The goal to equality between genders and ethnicities at boardroom and employee level is one not to be looked over.
For FTSE100 companies in particular, there is a lack of boardroom diversity with male executive numbers dominating female numbers. It's also important to take note of the lack of BAME diversity representation within these boardrooms as we're seeing white dominated leadership groups.
DailyFX have undertaken research to find how FTSE100 company boardrooms are made up with regards to their male to female split and BAME representation to produce a report consisting of data on gender, age and BAME representation amongst FTSE100 CEO's as well as comparing this against company revenue. BAME in this content refers to Black, Asian, Minority ethnic groups.
Nicole Sahin, Founder and CEO of Globalization Partners, said:
"This research shows that women continue to be underrepresented in leadership roles. For every 100 men promoted and hired to manager, only 72 women are promoted and hired.
"From recruitment, to development, to women-friendly policies, this research reminds us about the importance of prioritising equality across every aspect of the organisation, to ensure women's progress is accelerated further. After all, there is so much to gain from companies focusing on creating a diverse, inclusive culture that attracts talent of all genders, ages, sexualities, and ethnicities.
"Time and time again, reports show that organisations that have a high percentage of diversity financially outperform their competitors. More diverse companies will see better team results. According to a 2020 Global Employee Survey, 90 per cent of the global employees who describe their companies as diverse report higher levels of happiness, inclusion, and trust.
"Organisations that fail to live and breathe the values that deliver diversity will increasingly impair their own ability to recruit top talent. I've seen first-hand the powerful results that occur when people with different perspectives work together. By striving for equal, inclusive, and diverse organisations, we can work towards a better, fairer world."
Agata Nowakowska, Area Vice President at Skillsoft:
"Women are still largely under-represented in the STEM arena and even less so in STEM leadership positions.The reality is that – even in 2020 – it's so much more difficult for women to climb the career ladder. With persistent unconscious bias that women lack the confidence to apply for promotions or that they are simply not good enough to hold leadership positions, women have to work much harder than men to prove their ability.
"Some women even believe that to be a good leader or be chosen as one they need to exhibit male traits. This isn't the case at all. In fact, research by McKinsey & Company found that organisations that had more gender diversity on their executive teams were 15% more likely to experience above-average profitability than other companies. Improving gender diversity clearly makes business sense. Women add a different dynamic to male leaders and there's no reason why more women can't be the next Indra Nooyi or Ginni Rometty."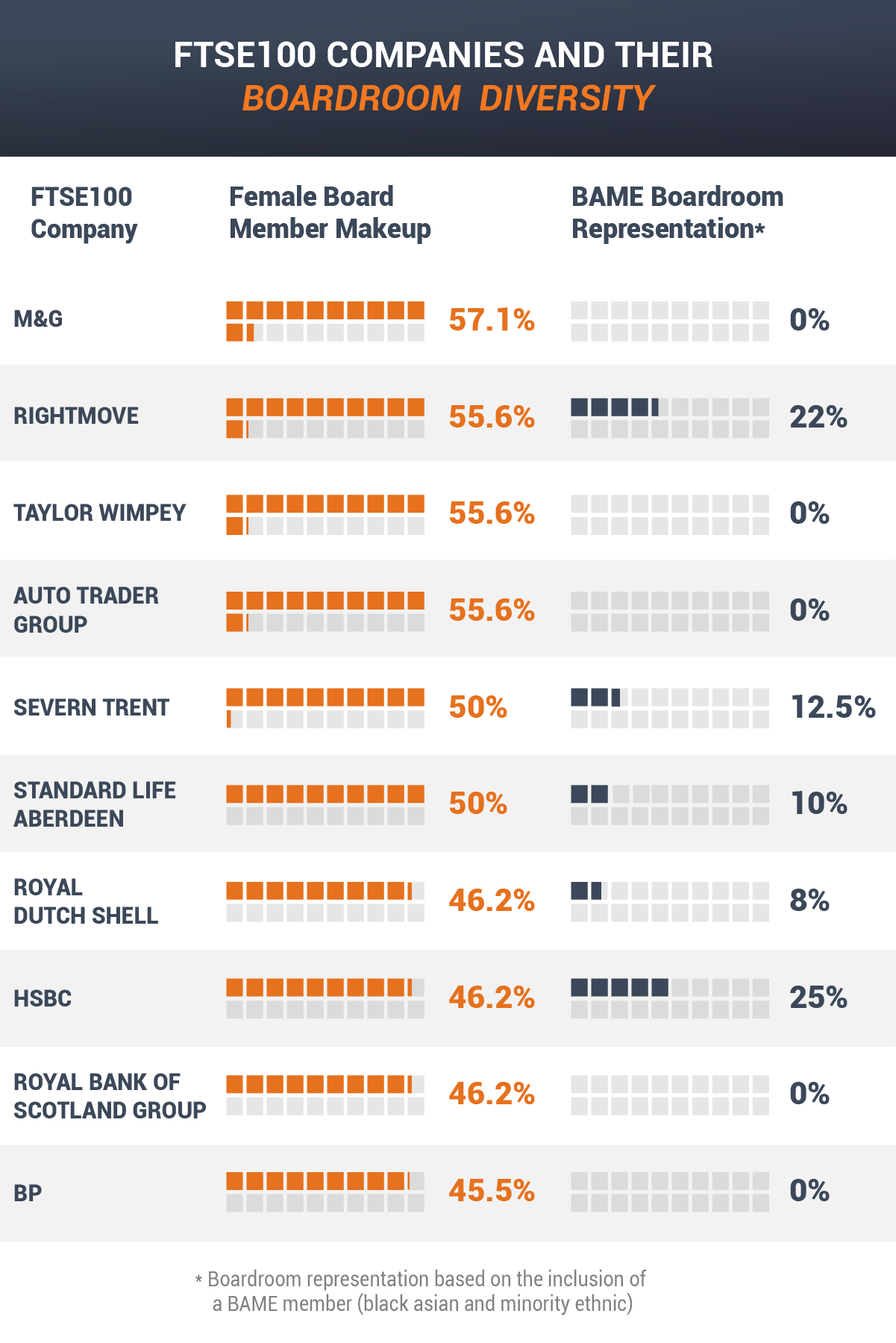 FTSE 100 Companies & Their Boardrooms
The graphic (left) illustrates the top 10 companies based on the highest percent of female representation in their boardrooms.
Leading the FTSE100 in terms of gender representation is M&G, with 57.1% of their board being female whilst also having BAME representation within their board as well. Out of all the FTSE100 companies, just six have a gender split of over 50% female in their boardrooms. However of these six, only two include BAME representation. The Auto Trader Group and Rightmove follow M&G for second and third in female representation with 55.6%.
Research also showed that the Royal Bank of Scotland Group, HSBC and ITV PLC have below 50% representation within their boardrooms.
A key part of this data card is the BAME representation within boardrooms. For five of the 10 companies show above, there is no BAME member within their leadership team. A worrying statistic that needs addressing. HSBC has the highest representation figures here with 25% of their board being represented by BAME individuals, followed by Severn Trent with 12.5%.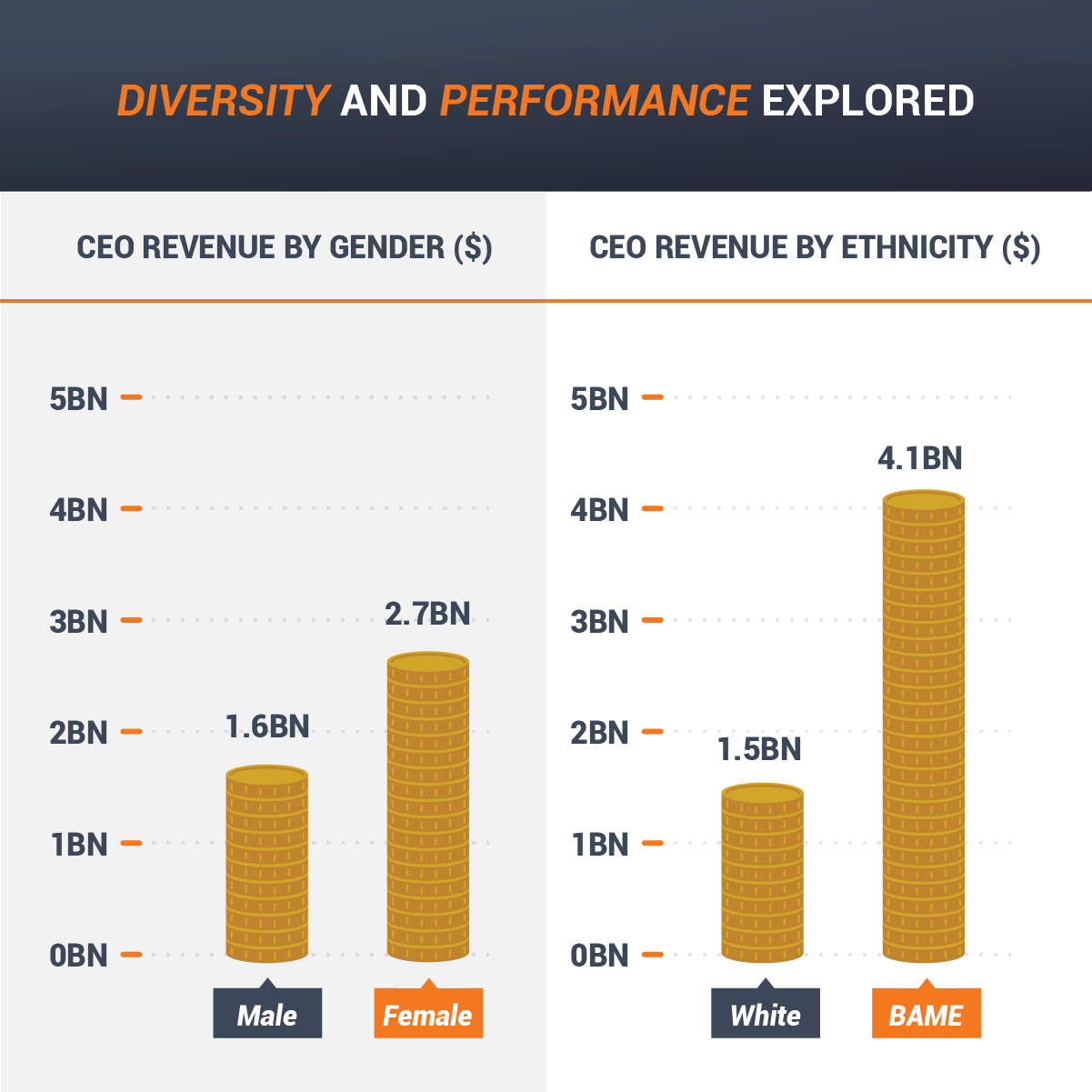 Diversity & Performance Explored
Looking further into the performance of FTSE100 companies in comparison to CEO diversity, we've looked at how CEO gender and ethnicity compares to company revenue. The study shows that female CEOs brought in $1.1BN more in revenue compared to male-led companies. An important statistic the study also showed was that there are no BAME female CEOs in the FTSE100. Thereby making it impossible to draw trends and correlations as to how male BAME CEOs and female BAME CEOs perform against one another.
Continuing to look into revenue performance through diversity, the study found that BAME CEOs performed against companies with white CEOs. Of all CEOs in the FTSE100, just six are BAME. BAME CEOs brought in an increase in revenue of $4.1BN compared to a $1.5BN increase for white CEO led companies.
As well as understanding how diversity correlates to revenue performance, we look into how age might affect revenue and salary. We've studied how much revenue certain aged CEOs bring into a company as well as looking at how age affects CEO salary.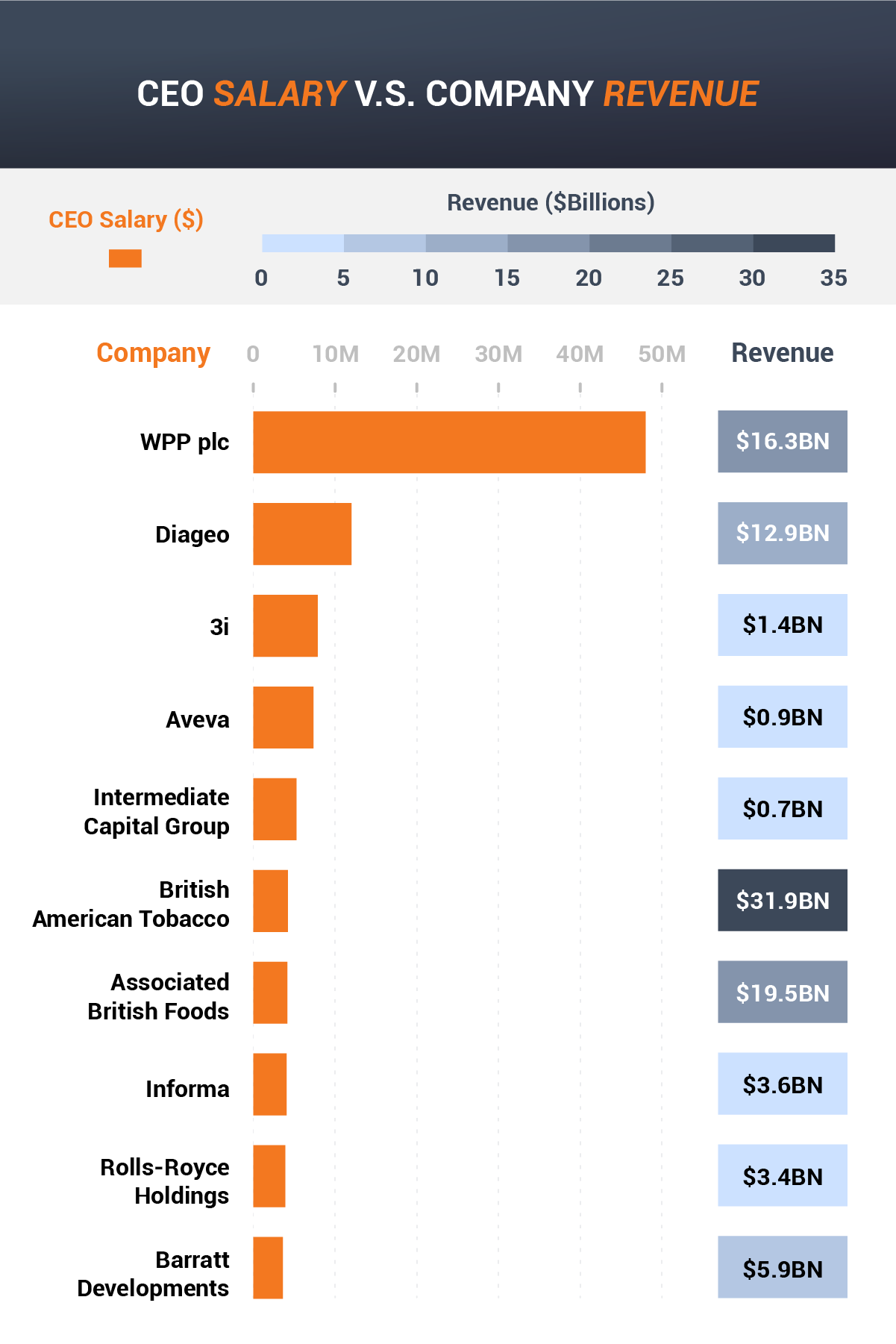 CEO Salary vs Company Revenue
The ratio between company revenue performance and CEO salary is an interesting topic to discuss. Despite having the highest CEO salary of $48 million, the revenue of WPP PLC sits at $16.3BN. When you compare this to British American Tobacco whose revenue is $31.9BN, it's CEO Jack Bowels earns $4.2 million, a tenth of WPP's CEO.
The graph shows that there is very little correlation between having a CEO on a high salary and the company's revenue performance.
Women Account For Just Over One-fifth Of Leadership Roles In UK
A new report by @BoardEx and @OdgersBerndtson has found that women are represented in only one-fifth (21 per cent) of leadership roles in the UK. This is only marginally lower than the countries which see the highest number of women in leadership – Australia and Norway (27 per cent respectively) which is still less than one-third.
The report also found:
Women only account for 19% of leadership team roles in major markets across the globe.
There is a wide range in global female participation levels among leadership teams, from 27% at best to 4% at worst.
Leadership team roles are predominantly in General Management, but on average these are only 11% female.
The report ultimately suggests that this data shows not enough women are being promoted to the types of roles which frequently lead to leadership positions.
"Building a pipeline of leadership talent that is gender diverse is both a moral obligation and good business sense," said Kester Scrope, CEO of Odgers Berndtson.
"This is where executive search plays a critical role in addressing gender inequality. The best headhunters can identify diverse candidate pools to ensure clients have access to as broad a slate of people as possible. This is particularly important for the roles that most often lead to a seat at the top table and is essential for building high-performing leadership teams and cultures that have the skillset mix to stay ahead of competitors."
The recent study released by BoardEx, a global relationship mapping and executive intelligence service, finds that there are not enough women being promoted to roles that develop the experience necessary for advancement to top C-suite jobs, like CEO.
The Global Leadership Team Diversity Report, brought to you in partnership with Odgers Berndtson, looks at the gender balance of the key job functions of leadership teams from leading organizations across the globe.
The study looked at 14,850 individual leadership roles in companies from the top indices across 26 major countries. A focus of this research centers on the disciplines from which the managers and directors are drawn.
The disappointing results show that there are not enough women in the relevant roles in any country to take sufficient numbers of the top spots in leading global organizations.
"Women may be found in numbers in specific functions, but as a whole they still only amount for a disappointing 19% of leadership team positions," states Dominick Sutton, the Chief Data Officer of BoardEx and the author of the report.
According to the report, women, on average account for 60% of HR and 37% of legal roles across the globe but those job functions only account for 6% and 8% of leadership team headcount, respectively.
In contrast, general management roles make up 44% of leadership teams but are only 11% female. Indeed, if every woman in all the leadership teams within these 26 countries moved into general management, they would still only account for 43% of these key roles.
Higher levels of female representation are not solely a North-West European or North American phenomenon, as significant progress has been found across the globe.
Australia leads the pack, with 27% female leadership teams and Malaysia has 22% female leadership, as does South Africa. The U.S. and the U.K come in a point lower with 21% female representation within their leadership teams. Surprisingly, these are lower than you would see at board level for those countries.
Key Takeaways
Research has shown that that there is still a strong gap to breach between male and female pay. As male CEO's earn almost three times as much as female CEO's, there is a long way to go until we reach equality.
Evidence also shows that it pays to be diverse in boardrooms as companies who have at least one BAME member in their boardroom generate a higher revenue against those with no BAME representation.
A final key takeaway to highlight is that out of all the FTSE100 companies, just 6 have a 50% or higher female boardroom representation. Also, an important part to address is the lack of BAME representation in both CEOs and boardrooms. 6 CEOs are within the BAME community out of a possible 100 which shows the journey we still need to take in order to reach equality.
Recommend

0

recommendations
Published in Skills and apprenticeships